Book Review: A Court of Thorns and Roses
This took me a while (and by that i mean two months) to write, i don't know why, because i did enjoyed this book.
And it was the first book i read and finished in July, so technically this should have been the first review i posted this in July and August. Instead it is the second i post in September. Oh well, as i said i don't know why it too me so long to write this.
But lets get on with the actual review where I will try to explain to you what i thought about this book, since it is completely unnecessary for me to babble on here when i will do it in a second in the actual review anyways. So here it goes: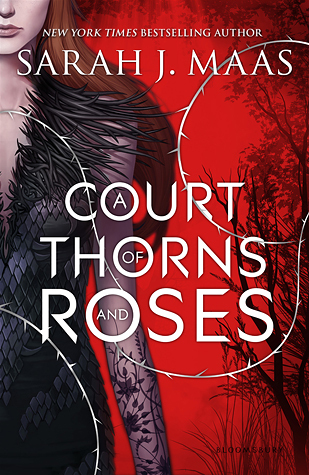 Title: A Court of Thorns and Roses
Author: Sarah J. Maas
Language: English
Type of book: Paperback
Pages: 416
Overall rating: 4.5 out of 5
Book series: A Court of Thorns and Roses series book #1
Book received through:
bought
Summary on the book:
"

Fryers

survival rests upon her ability to hunt and kill- the forest where she lives is a cold, bleak place in the long winter months. So when she spots a deer in the forest being pursued by a wolf, she cannot resist fighting it for the flesh. But to do so, she must kill the predator and killing something so precious comes at a price. "
Worth reading?
Yes, BUT
Don't expect a kick-ass female lead.
Expect huge
amount
of Disney "Beauty and Beast" similarities.
Don't expect a new
story, or a complete different retelling.
Expect fantastic side characters and only alright main characters!
Complete review:
I do have to say that i was a bit disappointed in this book. I loved it, don't get me wrong! I fell completely and undeniably in love with Maas' writing and now have this problem where i want to buy all her other books so that i can marathon through them. If that is a problem. Which it isn't. Not really. Only for my wallet. Which is fine. Who needs food when you can have books, right?
Anyway... I am a bit disappointed with this book.
It got this huge amount of hype about how fantastic Feyre is, how wonderful Tamlin is. How special this story is and how she put a completely new spin on the whole "Beauty and Beast and other fairytales woven into it retelling".
Nothing of that happened in this book, at least not for me. So there is the disappointing factor.
What did happen was that i fell in love Lucien and Rhysand -the two "main" side characters. I love them. I want a complete book just with their spunk and sarcastic comments, please! Or you know the real deal, just hand them to me! I can handle two men, no problem!
And i feel in love with the easy and fast to get through writing style of Maas, that still pulls you into the story that even months after reading the book, you still remember how well this book was written. And I kind of wanted to pick this book right back up after finishing it and reading it again this time in one go (i read this as a buddy read so it was spread out a bit more then i normally would have read this kind of book). Simply to go back and enjoy that writing some more.
What i kind of liked and kind of didn't was that the book to me was very similar to the Disney version of "Beauty and Beast". And by similar i mean, if you know that movie, you know what will happen in this book and will not be surprised by anything that happens. Which is fine. I'm just saying...
Now....
The things that weren't as fantastic:
Feyre!
She is annoying. And jumpy. And very hostile! Extremely hostile! And not thankful at all! And doesn't even try to be! It is not even that she is stubborn! I can understand stubborn, because i am stubborn in a way that i am constantly told that i should take the door and not ram through the walls! I know stubborn, she was just stupid in most cases!
And the jumpiness of her! First she really has to learn how to read and write so that she can contact her family, and she does her best to do so for one whole chapter.
And then suddenly, it is all "who cares about that! I need to paint!" and nothing else matters. Why should she talk to her family? Who cares about them or what they know? Painting is more important! Huh? What the heck happened?
And kick-ass female lead and huntress? Yeah right!
She is lucky, and sometimes has the ability to think logically. Mostly she is stupid and needs to be told that to do, to be able to function properly.
Which is fine, I wouldn't be able to hunt either, at least not better then she does if i had to teach it to myself -more or less at least. But please don't portray her in review as someone that is special or deserves the title as fantastic lead! She doesn't.
On to Tamlin, since i am all about bashing characters right now!
He is not really beastly to me. I mean, yes he is all "argh... i can kill it" if he has to be, but most of the time he is extremely friendly and helpful and nice. He just wants Feyre to feel welcome and at home. Sure he has this whole reason behind it, but still. And his beastly looks is that he can't remove a mask. Which is not only his problem, but that from is entire court of minion fairies. Which might be a tat mean to say it like that, but honestly: masks? Maas could have really done better then that! Just saying!
Also the relationship between those two...
So not my case at all. The constant back and forth, the prolong "will they or won't they" got on my nerves fast.
Maybe because i was not in the mood for that kind of relationship.
Maybe i didn't enjoy it at all because i did not really click with either of those two characters and I just wanted to move on from this back and forth and horrible flirting.
Maybe it was just horrible flirting. You figure that one out for yourself when you read this book and let me know in the comments.
I also have a problem with the big solution to the big problem of this book (i don't want to completely spoil this here so i won't say what it is, but if you read it you should know wha ti mean after the fighting is over and done with and all that, you know the big end reveal before everyone goes home!)
To me it was a clear coupe out. It was a bit like Maas wrote about 300 pages where more or less nothing big had happened, pretty little to know actual descriptor action. And then she thought: Oh hey, maybe i should pack some action in there. And then she wrote a few action moments, which were alright but not really good. And then after that, she decided and now i make a big show moment: and does the most horrid clique think ever! I mean really!
Also how the heck did the magic come back after wards? No explanation. At least no real one. I mean i can understand that Tam's solution to the problem might have solved it, but that was also a very easy way out!
And lastly, I did not like that in some aspects Maas gone on and on about some aspects of the world, but never really explained others.
For example most of this fairy stuff was not explained. Which was fine in the beginning because Feyre had no idea but the world and how it functioned, but the Maas would start to explain a little something and somehow drift away from that topic without actually finishing or completing her explanation of why and how and what "the heck is happening right now"!
I know i said her writing was fantastic throughout this book. And it was. But the writing style and the actual story is different from each other, people! So don't expect the perfect story just because i say the writing is near perfect.
And even though the story itself had wholes and was sometimes very predictable. And sometimes downright stupid. The writing kind of made up for all of that.
And as i already said those two side characters? Loved them.
The first half to the book Lucien has a bigger role and i love that. He is so snarky, i actually had to grin quite a few times about what he said and how he said it. Fantastic character and i really hope he gets a bigger role in the next book.
And then there is Rhysand. He is dark. And kind of broody. And you never really know what the heck he is doing and who for, but he has a tongue on him that is just as sharp as a knife... that is very sharp. Bad example. sorry. Still. Wonderful character. And the deals he makes. So fantastic!
Interestingly enough i actually thought that those two side characters had much more depth and development and growing potential for the next books then the actual main characters.
Another interesting fact... I can't wait for the next book. I really mean that. I really want to read more of her writing, i really want to know what will happen with Lucien and Rhysand and hope for lots and lots of reading time with those two in the next book.
I can not remember the last time i wanted a book in a series as bad as i want the next one from this series. Especially considering that while i loved this book i did have a huge amount of issues with it. But i still want to see where this series is going.
And Maas can write. Did i say that already?
So ... great book. Nicely done. Horrible dull main characters. Fantastic, huge potential, side characters. Pretty okay story. Wonderful writing.
All in all: Read the book!
Have you guys' read this book yet?
Did you love it?
Hate it?
Have no idea?
Did you like Feyre? And Tam?
Or did you love Lucien or/and Rhysand?
Write more later...