New Releases September part 2
Okay so i am lame.
And slow.
And not good at actually doing the posts i want to do at the time i want to do them.
Sue me. Well, don't. I have no money to pay for anything anyways, least of all something that i might need if someone would really sue me.
I wanted to post this over the weekend. But i didn't get my act together.
I am still working on a blog schedule. Because i need a plan. I function with a plan, if you can actually believe that. If you have some good blog posts or articles for how to create a good blog calendar or schedule or editorial calendar or what the heck you want to call it, please let me know in the comments and i will check that out! Thank you!
Anyways... Before i blabber even longer, here are the rest of the new releases in September that i am excited about. And want to read.
Let me know which books you are excited about for the rest of the year! I always interested in learning about those things. :)
And if i got the books that you want to see. Or not. If i did not include the one that you are really excited about let me know about that, because i always need more books to add to my "need-to-read" list. Clearly because i have not enough already.
September 8th:
This is supposed to be captivating and profound debut novel about complicated love and friendships. About people in your live that have the power to transform you and your life forever.
I love a good story about different people coming together and changing the lives of each other. Who doesn't love those stories? And it is a debut novel. I love those as well.
This is a book about a girl that lost heir sight six month ago, who did some wrong things, has a probation officer.
This is not a love story in the typical way, because Maggie is a teenager -i think 16? don't quote me on that!- and she falls in love with a precious ten year old. It is not a Lolita kind of story. But rather finding friendships in unexpected place, finding hope and love (not the romantic kind, there is other kinds of love out there, people!) when you least expect it. I don't know. I just thought that this story sounded really interesting because it is about a blind girl and a young boy.
I do love a good story about different people, different relationships.
And i will write a review soon. Because i have received this from NetGalley. And started it, and will finish it very soon. So review to follow!
So this is the third in a trilogy. And i will not be saying to much about what is actually happening in this book. Because well SPOILERS! so yeah... but this is a series about a girl growing up in Chicago's foster care system, that wishes upon a star.
This is a story that is hard to put into a genre, but since my description about is very weak, it is a bit of Science Fiction-y, Paranormal, dystopian-ish kind of book. If that sounds interesting give it a try.
I have all three books and i will write a review very, very soon, so look out for that if you want to where i get into much more detail about what this story is about and all that :)
Book one: Under Different Stars and
Book two: Sea of Stars
This is a Historical Fiction book about a girl that loves to read about heroines and dreams to become just like them in real life. She wants adventure, beauty and love but those are a bit hard to come by in a farm in Pennsylvania where her work is never ending.
Who doesn't love a good book about a girl that loves books and dreams about a life that is similar to that of the books she reads?
This is a debut novel that is supposed to explore how deep ties between legacy, loyalty and love can run and how far someone would go to save a friend.
I love those kind of stories. Also, the cover? Beautiful!
Adult
This is a story about the near future in New York City, when a storm strikes and strange things begin to happen. Strange things like, people suddenly being able to flowed.
Apparently some line between the worlds is breached on a grand scale and this is the story about how the children of a princess of the jinn, play a role in the epic war between light and dark spanning a thousand and one nights. Or two years, eight months and twenty-eight nights.
This just sounds really fantastic. That it could either be fantastic, a great mixture of fantasy and fairytales. And it sounds like something that could also be fantastic or horrible. I hope it will turn out to be the the first one.
With a dead husband, 79 year old Harriet Chance goes on a cruise to Alaska. And during that discovers a series of things about her life, looking back and confronting her past and what happens during the past sixty years.
I always enjoy a book that is about "older" people, and if it is a nicely written book about the life someone lived, maybe even told with a bit of humor? Give me that!
This is apparently a story that is supposed to demonstrate the prodigious talent of an author hailed as "a gorgeous, brutal writer" (Richard Price). I do love gorgeous writing. And who doesn't love brutally wonderful writing?
And the story itself is about a retired sheriff and a park ranger that have to work together to solve a vicious crime, which sounds fantastic as well. So all for this book.
This is a book about a woman that is a wimp, who is specialized in suffering of tiny and big indignities in silence. And the one time she manages to actually gather her courage and stand up for herself, the outburst awakes something in her.
I enjoy reading about people that get out of their shells, since i am a shy person. This book just sounds interesting. Even though the title is really long. And the cover not necessarily great. Still. The book sounds wonderful.
Yes this is a non-fiction book about math.
It is a book about the math that you wish you had in school.
That sounds great.
I am always willing to learn.
I never was a huge fan of math.
Interestingly enough i do enjoy reading books about math.
And the cover is kind of cute.
Another debut novel. This is about a young woman that travels for the first time to her mothers homeroom. Apparently this is a hilarious unexpectedly wise book. Who doesn't love a good humorous book that has a deepness?
(by the way, why is it that this book comes out in September in the US, but in Europe it comes out in October?)
This is a story about commitment, series to your country, wisdom and forgiveness. A Story about compassion, courage and redemption.
Also this is a book about a nurse, i love stories involving hospital workers.
This story sounds just interesting about a nurse and her Iraq nightmare haunted husband returning from his third deployment. This sounds like a good story of walking the line between interesting story, teaching a lesson about courage and redemption. I love those kinds of stories. I can't wait!
This is another Historical Fiction, this one from the year 1881 in China. It is about a seven-year-old girl that is left an orphan, alone and unprotected after her father is executed for the crime of speaking the truth. Yes you read that right! So for the whole price of seven silver coins, this seven year old girl is sold to a brothel-keeper and subjected to the worst of human nature.
I think i expect from this book is a nice view into the not much talked about history of China, how it worked and how its relationship with the West evolved or just existed at that time. I want to read a story about a woman's story fighting the world around her and coming out better. I don't know if that is going to happen. No matter what this book is really about, i love a good historical fiction book that is not set in America or England. I love a good book about the history of Asia, especially China or Japan. And i am always interested in reading a real story- that shows the horrible nature that humans have!
This is a memoir. About a five-month hiking thrip from Mexico to Canada. I love a good story about the actual world, about the actual journey of some kind. How someone is going to stretch the boundaries of themselves and what they can do.
This book apparently takes a real hard book about what it takes to be human and female in the 21st century. This is supposed to be very honest and funny book. I love those kind of book. So i want to read it, no matter what it is actually about.
This is a book of different stories that explore the insanities of the modern world. Apparently Eisenberg has a gift of writing fantastic characters and add a good dash of humor into the entire thing that makes it funny, but still keeps the honest and real tone to it. And the title is cute. And i do enjoy the very simple cover.
This is another Memoir, about a writer. Apparently this is a very candid and moving story, which explores the world through the eyes of a young girl that is eager to tell stories and let the world see what this girl has to give.
I love memoirs about writes that share how they started and grew up.
This is a book about a spoiled Southern belle that has to get a job as a teacher to get her inheritance. It is apparently a "chick-lit" book so i don't expect a deep story or insightful live changing wonders from this, but i hope for a humors easy read that shows how a spoiled woman gets changed into learning that sometimes working of something might be worth it.
September 10th:
YA
This is about a teenage girl that can't die. Clearly that means it is a fantasy book. The cover is really interesting. and who doesn't love a good new spin on the whole magic and paranormal stuff? I clearly do. I also always love a new series.
September 15th:
YA
This is a book about a girl who decides to find a boy that writes a blog called "Tonight the Streets are ours", when the boy dumps his girlfriend he blogs about. It is supposed to be a realistic story about discovering that people are not necessary exactly who you think they are and maybe that sometimes you, yourself are not the person that you always thought you where.
Who doesn't love those kinds of books?
This is a book about a self-proclaimed fat girl. I am hoping that this book gives a good message about body images, has a good main girl and really has the unforgettable heroine that this book is said to have. I want a book that i fall in love with. So there is pressure!
This is a Cinderella retelling. I am not a huge fan of Cinderella. I never understood how a girl can wish for a dress. Why not a huge library that fills itself with all the books she ever would want to read? Besides the point, right now, but as i said i never really enjoyed the story of Cinderella

(

confession never saw the Disney version!)

. Not the original version, or the story that i grew up with where the sisters cut their toes off to fit into the shoe and the pigeons tell the prince that there is blood in the shoe. Is that the original version? I have no idea.
I only loved that story because my mom did a fantastic pigeon voice! It is the details, people. I am drifting again!
I never found a story that i really enjoyed when it was not read to me in funny voices where i laugh more then actually listen to the story.
So why not give this one a try and see?
This is a book about a family of actors. Who doesn't enjoy those kind of books?
But... The first part is only told in pictures -which makes me a little bit skeptical because i am not good with graphic story-telling. I just don't enjoy it. Also this book is middle grade. And i am not sure if i can enjoy that. Still. This story sounds really nice. Also i heard a lot of fantastic things about this book. And i kind of just want to read this because apparently the reader has to piece together the mysteries while reading. And i do enjoy that. I will think about this book. Or you let me know if you read this and enjoyed it!
This is a Young Adult version of Sherlock Holmes. With the "new" spin of Moriarty being a girl and both Holmes and Moriarty being in High School when a murder is happening and a bet is made between them who will solve the crime first.
This is the first in a series. I hope i really love this series. Because i kind of sound like a Young Adult version of Elementary -the TV show. And since i really enjoy that show. And i enjoy Sherlock Holmes. So why not try a new version of it?
This is a fantasy romance with magical realism. That sounds fantastic. And the cover is very interesting! Apparently it is beautifully written. I love wonderfully beautifully written books. If you have an extra copy lying around? Send it my way ;)
This is a story taking place in the summertime in New York City about a aspiring filmmaker who has just started is summer term at NYU and while shooting a scene in the East Village he meets a mysterious girl named Annie. Annie is hiding something and the dark secret from her past might get interesting.
This is a Fantasy Paranormal book. And i am expecting a good nice spin on the whole ghost and horror stories version with this book. Apparently Howe can write a great haunting love story. And i do enjoy those. So, i will see how i like it when i get to this.
Another Historical Fiction book, this time a mystical retelling about the infamous Borden murders from the point of view of the Irish maid. That sounds really great. I always love a good retelling of an actual event. Most of the time real life is just way more horrible then anything people can dream up.
Adult
A Psychological thriller. Because i need more of those in my life. And this is priced as a page-turner. I don't need to know more. If you do, follow the link and read it for yourself ;)
This is another debut, about the Greenwich Village in 1959 when Claire Bishop sites for a portrait and discovers that the artist actually depicted Claire's suicide.
That sounds interesting enough without need more of the summary.
This book is supposed to be an unflinching portrait of a marriage struggling against the corroding tide of time (according to Goodreads). I love a good spin on marriage stories, that are not the "i hate my partner" or the "they can do nothing wrong". And i kind of love that the cover gives nothing away!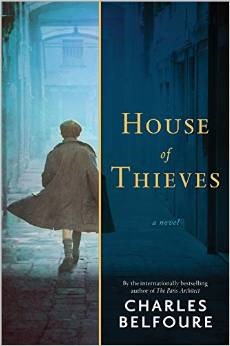 This is a Mystery Historical Fiction book set in 1886 New York is is about a notorious gang of thieves. I love thieves. I want to read a book about thieves. No more reasons needed!
Come Hell or Highball by Maia Chance
A charming, witty and apparently laugh-out-loud funny crime mystery fiction book. I need that in my life.
I talked about this book a bunch of time already. This is a book about the hidden world of privatizing and earning profit with and from war zones. And how different people earn a lot of money from catastrophes and disasters happening in our world.
This is a book that showcases that every story has two sides. I love if stories actually tell what happened from the two point of views that every story has. I am excited to see how well this is done. I hope it is done nicely. We'll see.
This is a book about about a girl that grows up with a father that wants her to be a boy and tells the world she is a boy, and about the fight that this girl fights to make sure that it does not define her and who she is. Apparently the girl comes wonderfully to life with a vibrant personality. I love a book that has fantastic characters. And i love a different family story. And a character that manages to stand above all that.
I heard that this woman is hilarious. And she writes fantastic books. I have her first book on my TBR list to get my hands on and read. Now she has a new one. I want to read that one as well.
This is priced as a fearlessly funny, outrageously inventive dark comedy about two lifelong friends. I love stories about friends. And funny books. And dark comedy if it is done right.
September 22nd:
YA:
This is the first book in a new fantasy trilogy. It combines historical fiction and fantasy. Which are two of my favorite things to read about combined. And the cover is beautiful. And is said to have a strong heroine and a fantastic twist. Yeah... that is all i need to know to really, really want this book!
Adult:
Another debut novel, this time a book about growing up and moving on, about turning wounds into strengths and written with charm and unceasing vitality. Sounds fantastic. And the story about a forty-year-old that feels like an outcast sounds just wonderful as well. So all around wonderful sounding book.
If i understood this right, this book is written by a blogger. I kind of want to read that because of that. And the cover is interesting. Do i need more reasons? I don't think so.
"Every Town has its secrets". That is the first sentence of the summary. And it sucked me in. I have no idea what the book is about other then that. But i want to read it. So there you guys go.

September 29th:
YA:
Zeroes by Scott Westerfeld, Margo Lasagna, and Deborah Biancotti
A book about kids with superpowers. Yes please. No more information needed.
A book about thieves. Once again, no more reasons needed. I love a good thief story! And this is the first book of a Duology. Or a Trilogy. Or a series. I have no idea. But there are more books coming. And it is a book about a gang of thieves. Did i say there are thieves? There are. I want to read it.
Adult:
A Standalone thriller. I love those just as much as a nice thriller series. If not a slight bit more. I always love a good thriller. I always need a good thriller in my life. Slaughter writes fantastic. I really want to get my hands on this one. I am honestly thinking about getting this one very soon -since it is already out in the EU.
Okay this is it!
My huge list of September new releases that i wish i could go out and buy right now.
I can't, but still, wishing is half there, right?
What are some of your guy's anticipated new releases?
Let me know, i really want to hear about them.
Write more later...