Book Review: Gone Girl
So this
book
took me forever.
But i did finish it.
And now i get to ramble. And share my feelings.
And let you all take part in my feelings.
Sorry about all the GIFs in this post, but i had so many fantastic ones that just fit. Who knew that it is so much easier to find fitting GIFs for a bad review then for a rave? I certainly did not expect that.
So lets just get into it!
Gone Girl
Author
: Gillian Flynn
Language: English
Pages: 475
Overall rating: 1.5 to 2 out of 5
Book series: NO, thank god!
Book received through:
bought it myself
Summary on the book
:
"

Who are you? What have we done to each other? These are the questions Nick Dunne finds himself asking on the morning of his fifth wedding anniversary, when his wife Amy suddenly disappears. The police suspect Nick. Amy's friends reveal that she was afraid of him, that she kept secrets from him. He

swears

it isn't true. A police examination of his computer shows strange sserachs. He says they weren't made by him. And then there are the persistent calls on his mobile phone. So what did happen to Nick's beautiful wife?

"
Favorite thing/moment in the book: That it was finally over!
Worth reading?
Honestly no. Really don't read this! Find something else. Anything thing else. This is horrible. HORRIBLE! And Boring. And if a thriller should not be one thing - just one thing!- that is boring!
Full review:
First thought after finishing the book:

Yeah... lets just get into the actual review

for

his book and ignore this!
Can we all say boring?
How this book can be anyones favorite is a huge mystery. Actually that is the biggest mystery about and in this book. And the most shocking.
Maybe
that is what everyone finds so shocking?
To me it was. Because this book? Boring.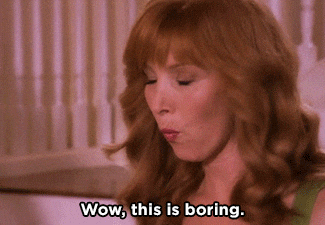 And i do mean that.
And i don't say that every often or ever when i read a thriller, especially psychological thriller because they are never boring. They can be horrible written. They can be just horrible. But boring? I can honestly say that was a first for me for this specific genre.
This book just bothered me from the start -and i did not know what was going to happen before i started reading this book! I was not spoiled!
Still i could see what was going to happen or was happening with Amy after the first dairy entry. And i just wanted to chuck that book to the side and stop. But i couldn't do that because i am the person that when i start a book i have to read that thing.
(I won't say what happens because if there is really someone out there that wants to read this book i don't want to spoil that person, even though i don't see why someone would want to read this book. If you made it so long without reading this, please don't. Spend that time somewhere else. Hit your head against a wall or something. Time better spend. Just saying!)
Anyways...
As i was saying. I could see where this story was going pretty much right of the bat. Which is not horrible in itself. But the diary entries where. Horrible that is. And boring to, especially those horrendously stupid quiz questions that pop up all over this book!
Was this book boring?
A. yes it as, horrible so.
B. Yes it was, but you know... who would have thought?
C. Could it have been worse?
D. What is the point of this?
E. All of the above!
The answer is obviously all of the above!
Sorry. Couldn't resist.
I also have to say i hated all the characters.
Nick was just... dear god give that guy some personality outside of the bottom of his whiskey glass please!
And Amy... who did not see her personality come from a mile away you should get yourself checked out.
And Nick's sister? Give that girl a some kind of board to bash against her head a few times very hard. Maybe that will rattle some sense into her. Or jumpstart her brain into working. Or just kills her. Either option is okay with me.
And the parents? Dear god! Those parents! Oh man. I just... i have no words. I just... don't.
Also can i just be the person and say that there should be a maximum of psychos in one story! You can't make everyone be completely of there knockers! That is just ... to much completely overdone crazy!
And the ending? Horrible. I am sorry but just... really? That is how Flynn ends this book? Why not just let them all shoot each other dead? or kill each other? Or you know... just go their separate ways? Or just i have no idea but come on! That ending was just horrible. What a stupid way to end this story! At least let the guy kill the girl. or the girl actually kill the guy. Or just... make it a fucking real ending!
This book makes me swear. If you would know me in real life you know how seriously aggravated i am with this book because i do not swear!
Why 2 stars?
Because there is some honest and real skill to write this horrible.
Writing this constantly horrible? That takes some skill. Just saying.
And i have to give some points for writing completely crazy people and overall just character that i hope are not actually running around in the world without straight jackets attached to them.
How this book is so beloved is a mystery to me. Let me say that again because it really just baffles me.
I would only recommend this book to anyone that wants a fictional case study on completely psychotic crazy people that are not even on any kind of psychological scale of crazy anymore and have a very supporting cast of characters that are not completely all together themselves.
If you want an actual thriller go somewhere else.
MOVE FAST! GO!
So now that i rambled on about my hate for this book, let me have it. I want to hear from you guys and tell me if you liked it. Hated it. Found it alright. Started the hype. Or tried to kill it and find the deepest place possible to put that sucker.
Let me know.
Write more later...