Waiting on Wednesday: This Raging Light
Who doesn't love a good contemporary story? And a beautiful cover?
Waiting on Wednesday is a weekly event hosted over at Breaking the Spine, so head over there to join in or see what it is all about :)
This Raging Light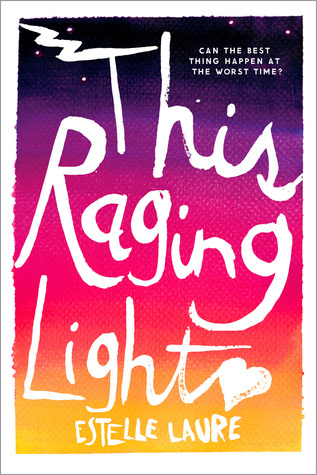 Written by: Estelle Laure
Publisher: HMH Books for Young Readers
Release Date: December 22nd, 2015
Genres
: Young Adult, contemporary, Fiction, contemporary fiction, realistic fiction, romance
Pages: 288
Buy: Book Depository, Amazon.de, Amazon.com
Add to Goodreads

Summary:
Can the best thing happen at the worst time?

Her dad went crazy. Her mom left town. She has bills to pay and a little sister to look after. Now is not the time for level-headed seventeen-year-old Lucille to fall in love. But love -messy, inconvenient love -is what she's about to experience when she falls for Digby Jones, her best friend's brother.
Way i am waiting....
As i said in the intro, i love a good contemporary. And i love a bit of a more realistic view in contemporary.
For example that there is not always money.
Or parents sometime are not perfect -or violent!- but simply not there.
That sometimes love doesn't fit it.
I would love to read one that doesn't have love at all. But oh well you can't have everything.
Still this book sounds as if -if it is well written- it could give a good view into a different kind of life and a story that could become a favorite.
And so i can't wait to try this and see if this book as different to other contemporaries as i hope it will be, or if it is just another "teenage girl falls for boy while family drama is going on" story.