November 2015 Wrap up: Books
Who wants to see a wrap up that is almost a complete month to late?
Nobody?
Everybody?
Oh well. Actually i am just going to post this no matter, so yeah....
What can i say? I kind of suck at this regular posting thing. I get into it for a few weeks, do really well and then i don't feel so great, let all my pre-scheduled posts go live and forget to write new ones.
That is my life. Oh well. I am working on it. I am. Really. I promise.
For now i am playing catch up. once again.
So starting with my wrap up for November. 11 days before December ends. Who cares? Not me that is clear!
Here we go, all 24 books i read.
And if you want a very short and undefiled overview of the books i read you can also check out my video i made of about it:
If you rather read about it instead of seeing my face

(completely understandable by the way!)

here it is.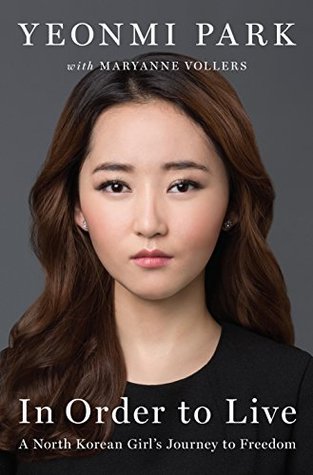 In Order to Live
Written by
: Yeonmi Park
Stars: 5 *****
Genres: Non-Fiction, Memoir, Biography, Autobiography
Pages: 352
Add to
Goodreads
Buy through:
Book Depository,
Summary:
"Yeonmi Park has told the harrowing story of her escape from North Korea as a child many times, but never before has she revealed th most intimate and devastating details of her repressive society she was raised in and the enormous price she paid to escape.

"
Review:
I actually really "enjoyed" this book. And i say it like that because honestly you can't enjoy this book in the typical sense of enjoying a book. Because this poor girl lives through a very hard life up until that point in her life. She really she has it horrible! She gets raped, more then once. She gets sold and loses most of her family. But still, somehow she fights on and doesn't blame anyone for what is happening to her, but rather just tries to show and point out where things are going wrong and where things should chance. And what has to change. She shows the world that the lives in North Korea are still so much harder then they should be and that it should really not be possible for such a country to still exist in our world today, and that we all should work on being more united and working tighter instead of constantly making it harder for each other. And she also just has a very unique voice.
I can't say that i loved the writing style, because it was very "and this happened, and that this took place" and i understand why Park wrote it like that, because i am sure talking about being raped or any of the other horrible events that she went through and having to write it all down is not necessary something that is fun. Or easy. And being rather clinical about it might have made it easier for her to get through. And really the writing style is such a side thing in this book because what is told is sooo much bigger. And so really it doesn't take anything away from it.
What i am trying to say with this here is: Get this book! It is important. It is necessary for more people to read. This is a story that has to be heard. And should be heard. And deserves to be heard. This young woman deservers her book to be one of the best-sellers because she really actually does have something to say and really important to share with the world.
So no matter if you are someone that never reads non-fiction or biographies. Get this book.
If you are someone that only reads them. Where have you been? Get this book.
If you only buy one book a year, or in 10 years!- buy this book!
You get my point? Buy this book and read it and learn something new and really just learn to appreciate the very easy life you had, because no matter what you had growing up? You didn't have it as hard as this girl, so be thankful for that and appreciate your life through and with this book!


Harry Potter and the Chamber of Secrets
Written by

: J. K. Rowling


Stars: 5 *****
Genres: Fiction, Magical Fantasy,
Pages: 366
Add to Goodreads
Buy at: Book Depository
Summary:
"Harry can't wait for his holidays with the dire Dursleys to end. But a small, self-punishing house-elf warns Harry of moral danger awaiting him at Hogwarts School. Returning to the castle nevertheless, Harry hears a rumor about a chamber of secrets, holding unknown horrors for wizards of Muggle parentage. Now someone is casting spells that paralyze people, making them seem dead, and a terrible warning is found painted on the wall. The chief suspect - and always in the wrong place- is Harry. But something much darker has yet to be unleashed

"
Review:
I just... i love this series. I love this book. But this book especially is very hard for me to talk about. Because I love it.
I love what it brings to the story. How we learn a bit of back story about Voldemort and how in a way from this point on the entire plot is connected until book seven. Rowling just did a fantastic job of it. And i love the badass-ness of Hermione in this book. I mean that girl is kicking-ass and taking names in this book! She really is just! How she manages to make a perfect potion way over her grade level just shows how fantastic she really is! And i love that this books shows that sometimes good people can do bad things, without even meaning to. I mean sure in this book that is taken very literal with Ginny being mind controlled, but it still. I just love the message this book gives.
And then at the same time there is the entire Lockhart situation. Which i hate. Because I absolutely hate that guy! I mean it. He and Umbridge? Way worse then Voldemort to me! Just saying!
How he treats Harry and nobody does anything to stop him from pushing Harry into situations that poor boy won't nothing to do with and just lets a 12 year old be boy bullied by a teacher? That is just.... Hogwarts since they have Snape and all that anyways. But still those parts of the book? Dear god i hate them!
So really this book is one of those books that i kind of love to hate. Because most of the book i really love and enjoy. I love the Weasley family moments! I love Harry in this book. I just... i love it! But then there are the moments that i really, really, really hate in them as well. And yeah... What can i say? Strong emotions for Harry Potter over hear!
The Color Purple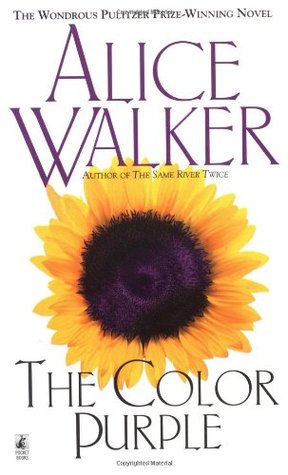 Written by
: Alice Walker
Stars: 3 ***
Genres: Fiction, Historical Fiction, Classics
Pages: 295
Add to Goodreads
Buy at: Book Depository
Summary:
"Celie is a poor black woman whose letters tell the story of 20 years of her life, beginning at age 14, when she is being abused and raped by her father and attempting to protect her sister from the same fate, and continuing over the course of her marriage to "master", a brutal man who terrorizes her.

Celie eventually learns that her abusive husband has been keeping her sister's letters from her and the rage she feels, combined with an example of love and independence provided by her close friend shut, pushes her finally toward and awaking of her creative and loving self.

"
Review:
I wanted to love this book. I really did. But sadly for me there was just a bit to much not working for me to really love it.
I loved the idea.
The writing on the other hand was really off putting for me and hard to get through, the story telling itself was not my favorite - the letters as well how they told the story, not just strayed out just saying what was supposed to be said but keep talking rounds and rounds more describing around the matter and the events then just saying it!
But the story itself is important.
I appreciate what the book is about and that the topic is talked about and i do like that there is a book that shows the view from the victim of child abuse and rape! I just wasn't a fan of the voice that too the story. But that is a personal thing.
And i think everyone should try this book and at least give it a change. Because it really is important and the topic should be talked about. And so it is fantastic that a book like this is one that stayed on the "must-read" lists for so long and hopefully will continue to stay there very long as well. And if you haven't read it yet? give it a try! You really should!
Ghana must go
Written by
: Taiye Selasi
Stars: 3 ***
Genres: African culture, fiction, contemporary, adult fiction
Pages: 336
Add to
Goodreads
Buy through:
Book Depository
Summary:
"A renowned surgeon and failed husband, Kweku Sai dies suddenly at dawn outside his home in suburban Accra. The news of his death sends a ripple around the world, bringing together the family he abandoned years before.

"
Review:
This was another one of those books that i am happy i read, but sadly did not love as much as i hoped i would.
I heard so many fantastic things about this book. It is a fantastic story idea.
But the actual book? Sadly not my personal favorite or anywhere near it really.
I mean the overall idea? Great. And the first few pages pretty great too. But after that it kind of just... it gone on for to long. Which is saying something for a book that is not even 400 pages long! But this story was the literal "never-ending story"!
And that is just sad!
That being said that is just what i felt. And if you are someone that loves a good long winding family story? I am sure you will love this. I just not someone that loves to talk around the bush for ever and ever, instead of just stepping over that stupid thing and go on with the story.
But as i said, if you love a interesting and longer winded family story that has twists and turns and different tones? Give this book a read!
The Fill-in Boyfriend
Written by
: Kasie West
Stars: 3 ***
Genres: YA, Contemporary, Romance, Realistic Fiction (?),
Pages: 352
Add to
Goodreads
Buy through:
Bookdepository
Summary:
"

When Gia Montgomery's boyfriend, Bradley, dumps her in the parking lot of her high school prom, she has to think fast. After all, she'd been telling her friends about him for months now. This was supposed to be th night she proved he existed. So when she sees a cute guy waiting to pick up his sister, she enlists his help. The task is simple: be her fill-in boyfriend - two hours, zero commitment, a few white lies. After that, she can win back the real Bradley. The problem is that days after prom, it's not the real Bradley she's thinking about, but the stand-in. The one whose name she doesn't even know. But tracking him down doesn't mean they're

done faking a relationship. Gia owes him a favor and his sister intends to see that he collects: his ex-girlfriend's graduation party - three hours, zero commitment, a few white lies. Just when Gia begins to wonder if she could turn her fake boyfriend into a real one, Bradley comes waltzing back into her life, exposing her lie, and treating to descry her friendships and her new-found relationship."
Review:
I really enjoyed this book. It is a fun, cute not over done YA romance that is just... cute.
It really is.
I personally would have liked it even better if the story would have been a bit more and had a bit more overall. More depth, more background information on the story itself on the characters, more explanation, more actual friendships and less backstabbing monsters and less overdramatized drama friend moments. And a lot less horrible bullying brother and uncaring parents!
But the overall story?
Its cute.
The romance doesn't feel forced or completely overdone or unrealistic. The characters are sometimes a bit stupid, but all in all? This book is just cute and i really do understand why people love West and her romance writing, because she really does bring all the important things and doesn't overdramatize most of the book make it longer or... actually i have no idea why so many people constantly overdramatize their stories. If you do please let me know.
Anyways. this is not one of those books.
I mean there are those moments, where i sat there reading it and rolled my eyes because of the stupidity of it. The girlfriends? Horrible people! I mean it.
Why can't someone please write a romance book that has fantastic girlfriends in them that are just happy for the girl that found her guy?
But other then that this is just a cute fun and was read for your romance fix. If you are searching for one of those? Pick this up and enjoy a few hours of nice and fluffy life!
Cress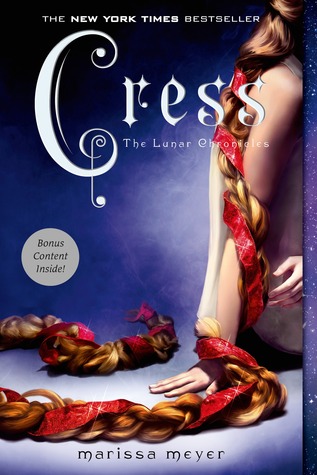 Written by
: Marissa Meyer
Stars: 3.75 ***
Genres:YA, Fantasy, Science Fiction, Sci-Fi, Fairy Tale retelling, Romance, Fiction, Rapunzel retelling
Pages: 552
Add to
Goodreads
Buy through:
Book Depository
Summary:
"Cinder and Captain Throne are fugitives on the run, with Scarlet and Wolf in tow. Together they're plotting to overthrow Queen Levant and her army. Their best hope lies with Cress, who has been trapped on a satellite since childhood with only her net screens as company. All the screen time has made Cress and excellent hacker; unfortunately, she's just received orders from Levant to track down Cinder and her handsome accomplice. When a daring rescue goes awry, the group is separated. Cress finally has her freedom, but it comes at a high price. Meanwhile, Queen Levant will let nothing stop her marriage to Emperor Kai. Cress, Scarlet and Cinder may not have signed up to save the world, but they may be the only ones who can. "
Review:
This series... When i said i have a love/hate relationship with the Chamber of Secrets? Yeah that book has nothing compared to the love/hate i have with this series.
Because i kind of hate it. But i want to know what will happen and how it all ends. And then all of a sudden there is this character in each book that i kind of do enjoy and want to follow along, even though the other characters in this series are nothing of interest to me.
In this book i really enjoyed Cress and Throne. Those two? I loved them
And if the book would have focused mor eon those two? And less on Cinder, and everyone else but Cress and Throne? I would actually have a book that i can say i understand the ravings and love for this series.
Sadly once again Meyer kind of lost track of all the characters -again!- and towards the beginning of the book she stopped talking about Scarlet for most of the book. Which okay, fine. But i mean, really? You have a book series with Cinder, Scarlet and Cress as the three main girls, then please just don't leave one out constantly! I mean in book one Scarlet was never mentioned, which is fine that was the first book and all i understand! But in book two Cress was completely ignored! And then in book three Scarlet is basically just a footnote? What? No!
It just confuses me that that keeps happening in the books and really bugs me!
And while i really did love the relationship of Cress and Throne, the entire rest of the book -and by that i mean the other 4/5 of this book- it was just as okay as the two others before.
By that i mean i can see the potential. I see the love that people have for it. But for me there is too much missing and at the same time to much babbling around and not enough doing things and just getting somewhere -with the story and in the story!
I really hope that Meyer manages to wrap this series up nicely in the last book winter, which i am currently reading. I mean i would be reading if i wouldn't be in a slump! But still i have started and own the thing so i will read this and finish the series!
All in all for me this series is sadly not as fantastic as it is for everyone else -at least everyone else that seems to be on the internet since i only constantly hear the highest praise for this series!- because i honestly just thing that Meyer should have shorted it all in either one long book or two ones of the size of Scarlet and Cress and would have told everything important, faster and better!
I will get back to you all once i finished Winter to report if i still feel that way!
P. S. I still love you
Written by
: Jenny Han
Stars: 3 ***
Genres: YA, Contemporary, Romance, Family
Pages: 352
Add to
Goodreads
Buy through:
Book Depository
Summary:
"Lara Jean didn't expect to really fall for Peter. She and Peter were just pretending. Expect suddenly they weren't. Now Lara Jean is more confused than ever. When another boy from her past returns to her life, Lara Jean's feelings for him return too. Can a girl be in love with two boys at once?"
Review:
Another series (duology who cares?) that everyone loves it but i kind of don't get the whole hype about it.
I mean with this series is cute. It is nice that the characters are different, but especially with this book? I kind of don't get the hype. Because this book felt very much like one of those books that you have to write because you got a two book kind of book deal but really? You already sad everything in the first book and have nothing left to talk about. So you just babble on and on and create unnecessary conflict and drama and just... no. I am sorry but no.
I still didn't like the sister relationship or the relationship! I just... why wouldn't have Han just wrote a book about the family drama without adding relationship drama? Or why just not make it a relationship drama at all? I just don't get this book. At all. Sadly.
Because i really thought i would enjoy this duology so much more with how much people rave about it. And the covers. They are so unbelievable cute. Maybe that is why i had problems with the über-drama. Because it doesn't really fit with the image of the story i had with the covers? I am like that.
No matter what. I am happy i read it and sad that i didn't love it as much as everyone else. But i just didn't feel this series. It felt to forced and really just fake to me to enjoy it overly much.
Still i can see why people love it and if they are not as specific about... life as me i can understand the hype. Sadly the hype just didn't fit into my preferences in romance books.
This Shattered World
Written by
: Megan Spooner and Amie Kaufman
Stars: 4.5 ****
Genres: YA, Science Fiction, Romance, Fantasy, Alien Sci-Fi, Sci-Fi, Fiction, Space
Pages: 400
Add to
Goodreads
Buy through:
Book Depository
S
ummary:
"Jubiläen Chase and Flynn Cormac should never have met. Lee is captain of the forces sent to Avon to crush the terraformed plant's rebellious colonists, but she has her own reasons for hating the insurgents. Rebellion is in Flynn's blood. Terraforming corporations make their fortune by recruiting colonists to make their inhospitable planets livable, with the promise of a better life for their children. But they never fulfilled their promise on Avon, and decades later, Flynn is leading the rebellion. Desperate for any advantage in a bloody and unrelentingly war, Flynn does the only thing that makes sense when he and Lee cross paths: he returns to base with her as prisoner. But as his fellow rebels prepare to execute this tough-talking girl with never of steel, Flynn makes another choice that will change him forever. He and Lee escape the rebel base together, caught between two sides of a senseless war."
Review:
This is the second book in the Starbound series.
And i love the first one. I mean i LOVED the first one.
And this one is just slightly behind that. Which is fantastic. I mean really! This book was fantastic and i can only say that you should read this series! It is great!
I loved that in this book the main girl was really kick ass military woman who knew what to do and when to ask for help and when to do it her own way. That does just not happen overly much in books -sadly!
And the boy was kind of the damsel in destress in this book and needed the girl to save him. And that never happens in books so i love that!
The writing was fantastic! And just....
If you haven'T read this series yet? What are you doing and waiting for? Read it! The last book just came out to really, you have no excuse to not read this! Go do it! It is fantastic!
Everything, Everything
Written by
: Nicola Yoon
Stars: 2 **
Genres: YA, Contempoarry, Romance, Realistic Fiction, Illness
Pages: 320
Add to
Goodreads
Buy through: Book Depository,
Summary:
"Madeline Whittier is allergic to the outside world. So allergic, in fact, that she has never let the eh house in all of her seventeen years. But when Olly moves in next door, and wants to talk to Maddie, tiny holes start to appear in the protective bubble her mother has built around her. Olly writes his IM address on a piece of paper, shows it at her window and suddenly, a door opens. But does Maddie dare to step outside her comfort zone?

"
Review:
This
book.
I really expected to enjoy it very much.
Because it is about a girl that is chronically ill. And if i can relate to anything? That is is because have been sick for over 12 years no and have a very similar living situation as the main girl in this book. I mean technically i can leave the house and do so every day to walk the dog. But i can't actually do much of anything other then that. Because people? They overwhelm me and make me sick like nobodies business, so anything that is anywhere that has more then five people at one time? Yeah not fun for me at all.
So i gone in to this book epyecting to love it.
And the first half? I really did!
I man Yoon did a fantastic job at describing the feelings and overall sense of being sick almost perfectly! She had a few moments that didn't make too much sense to me but all in all? Fantastically done for a little over half to he book?
And then?
And then she just went down hill for me. Because she just... she ended the book completely wrong in my option and ruined it all.
If you want a spoilery

complete review i actually done one for my Booktube account, so here is that!
But all in all this book was just very disappointing to me personally. And i hated that because it started fantastic and ended breaking my heart. I do hope that Yoon will write another book about chronicle illness because she gets the deeps of it. But that she will not ruin it again like she did it with this book.
Oh and as a warning! if you are sick in a more permanent way, please don't read this. Just... don't!
Saint Anything
Written by
: Sarah Dessen
Stars: 5 *****
Genres: YA, Contemporary, Romance, Realistic Fiction
Pages: 432
Add to
Goodreads
Buy through:
Bookdepository
Summary:
"Peyton, Sydney's charismatic older brother, has always been the star of the family, receiving the lion's share of their parents' attention and -lately- concern. When Peyton's increasingly reckless behavior culminates in an accident, a drunk driving conviction and a jail sentence, Sydney is cast adrift, searching for her place in the family and the world. When everyone else is so worried about Peyton, is she the only one concerned about the victim of the accident? Enter the Chathams, a warm, chaotic family who run a pizza parlor, play bluegrass on weekends, and pitch in to care for their mother, who has multiple sclerosis. Here Sydney experiences unquestioning acceptance. And here she meets Mac, gently, watchful and protective, who makes Sydney feel seen really seen for the first time. "
Review:
This is my first Dessen book.
Can you believe that?
I actually couldn't and looks it up in my handy-dandy list where i have all the books i read.
But yeah. This is the first one.
And it was kind of perfect.
I mean the story had a few moments that were head scratchers for me but honestly i don#t think i will ever find a book that does not have that even if i ever would write my own one, or especially that, had a few of those moments as well. But overall? I loved this book and it came pretty close to perfect for me!
It is one of the best -if not THE best YA contemporary i ever read. I loved it.
It was fantastic.
The writing was great, not overly dramatic or felt too focused on unnecessarily details or opposite of that skipping over everything the might be important too fast. Instead it found the perfect middle of knowing when to go into detail and when to glaze over something for a bit and just move on with the overall story.
I personally found the best friend of the brother completely unnecessary -the head scratcher - to the story but other then I have next to nothing to complain about! Which is rare!
It was great and heartbreaking and "suck you in and spit you out at the end of it" kind of book that i just... i loved it.
I loved the characters and the storyline, i loved how it was told and the writing. I enjoyed that the problems of or for the characters where real life problems -a stupid sibling, a sick parent- and not something completely silly and over dramatized. The characters in this story really had something to fight through that was real and maybe not relatable to every single person but i think most of us can find something to relate to in this book, be it the family that always says something but never talks to each other, or the family that is a bit to close always and just needs a breather from each other. Or the completely estranged siblings that have no idea who the other one is anymore. Or those that constantly look out for each other. Or the sick parents. Or the distanced ones. or even just the girlfriend relationships in this book, which are by the way fantastic! and one of the first book that actually have positive female relationships featured! No stabbing in the back by the actual friends, no hate, no jealousy. Just honest and real friendship!
I just loved the relationships and how imperfect most of them where but they all still worked on it.
I loved the realistic-ness of this book. To me this story just felt substantial and more like a movie that i was watching since it all as so vivid and vibrant to me while reading this!
If you want a fantastic contemporary with real characters and a real feeling story? Try this.
Also the cover matches the story in the most perfect why that i ever seen! Just saying!
Cruel Beauty
Written by
: Rosamund Hodge
Stars: 3 ***
Genres: Fantasy, YA, Romance, Retelling, Fairytale Retelling, Magic
Pages: 336
Add to
Goodreads
Buy through:
Book Depository
Summary:
"

Since birth, Nyx has been betrothed to the evil ruler of her kingdom- all because of a foolish bargain struck by her father. And since birth, she has been in training to kill him. With no choice but to fulfill her duty, Nyx resents her family for never trying to save her and hates herself for wanting to escape her fate. Still, on her seventeenth birthday, Nyx abandons everything she's ever known to marry the all-powerful immortal ignifex. Her plan? Seduce him, destroy his enchanted castle and bak the nine-hundred-year-old curse he put on her people. But Ignifex is not at all what Nyx expected. The strangely charming lord bugles her, and his castle - a shifting maze of magical rooms- enthralls her. As Nyx searches for a way to free her homeland by uncovering Ignifex's secrets, she finds herself unwillingly drawn to him. Even if she could bring herself to love her sworn enemy, how can she refuse her duty to kill him? with time running out, Nyx must decide what is more important: the future of her kingdom, or the man she never supposed to love."
Review:
This book was very different then what i expected. It was very strange. And a divert mixture of retellings. In a way to me it felt more like a Cinderella/Rumpelstilzen retelling then a Beauty and the Beast one. With Nyx being the "cinderella" sister that is unwanted and unloved in a way and Ignifex the "beast" that has all those secrets including his name, which is something that Nyx has to get right if she wants to escape.
If it was the intention of having a retelling mixture of Cinderella and Rumpelstilzen it wasn't done that bad. It was however a rather bad retelling of Beauty and the Beast. So take that how you want to take it.
I have to say that I was not the biggest fan of the writing style. The author tried very hard to have a strong, sassy female lead and that just came over as trying to hard in my option. And made Nyx the opposite of sassy and just sounding childish and stupid most of the time. The "banter" between her and the "lord" where completely overdone and felt so forced that its would have been funny, if it wouldn't have been almost painful to read such a forced dialogue! It just did not feel natural, funny, dramatic or even slightly sassy or sarcastic or even just easy in any way and i had eno idea what the author tried to do with those "banter moments" because it clearly wasn't anything i could see sense in!
The male lead felt very empty and unfitted and also very easy in the was of "i need a bad boy that is actually the best guy -like- eva!", which lets just face it if this is a children's book for 12 year olds, that might be nice to read about but a YA book? I expect a bit more depth and a little less cliche!
The overall story lacked a specific focus and the ending kind of sucked in my option because it was just very easy and not done very well and unsatisfactory for the overall story.
And while i admire the idea behind this book and the story plot could have been perfect - i mean really mixing Cinderella and Rumpelstilzen? Who ever heard of such a thing? That would be great! If that would have been the marketing in the first place instead of beauty and the beast! Sometimes book advisor people should remember that Beauty and the Beast its not the only "Beastly" story out there for a retelling!- this book is sadly not to my taste at all.
But oh well, not every book is for everyone, right?
Eleanor and Park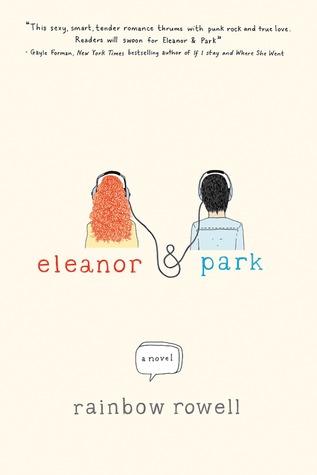 Written by
: Rainbow Rowell
Stars: 2 **
Genres: YA, Romance, Contemporary, Fiction,
Pages: 336
Add to
Goodreads
Buy through:
Bookdepository
Summary:
"Two misfits. One extraordinary love. Eleanor... Red hair, wrong clothes. Standing behind him until he turns his head. Lying beside him until he wakes up. Making everyone else seem drabber and flatter and never good enough. Eleanor. Park... He knows she'll love a song before he plays it for her. He laughs at her jokes before she even gets to the punch line. There's a place eon his chest, just below his throat, that makes her want to keep promises ... Park. Set over the course of one school year, this is the story of two star - crossed sixteen-year-olds, smart enough to know that first love almost never lasts, but brave and desperate enough to try

"
Review:
Another first for me in November.
I read my first Rowell book.
And can't say that i loved it.
I mean it was okay.
But i did not enjoy it nearly as much as the rest of the world seems to be while reading this.
The story was cute, Park was very cute and one of the most lovable guys in Fictional history. But i hated Eleanor and her story. I couldn't not connect to her and what she was doing and how she was doing it.
And while I enjoyed the idea, the way this book was done was just not my case.
I did love that Rowell did not take the typical YA character traits, but rather changed it up from blond/Brunette pretty white girl and football boyfriend, to something a bit different. But honestly? That was the biggest thing i liked and noticed about this book. Sadly.
Once again, as i said i had a lot of books that i just personally had problems with this month.
Overall to me this book was just okay but if Rowell writes all her books in this way i don't really get the hype. I will try something else by her and see if there is something out there that i love by her. But this book was not it for me.
Vampire Academy
Written by
: Richelle Mead
Publisher:
Genres: YA, Fantasy, Vampire story, Fiction, Romance
Pages: 232
Add to
Goodreads
Buy through:
Book Depository
Summary:
"St. Vladimir's Academy isn't just any boarding school -it's a hidden place where vampires are educated in the ways of magic and half-human teens train to protect them. Rose Hathaway is a Dhampir, a bodyguard for her best friend Lissa, a Moroi Vampire Princess. They've been on the run, but now they're being dragged back to St. Vladimir's - the very place where they're most in danger... Rose and Lissa become enmeshed in forbidden romance, the Academy's ruthless social scene, and unspeakable nighttime rituals. But they must be careful lest the Strigoi - the world's fiercest and most dangerous vampires - make Lissa one of them forever."
Review:
Another book that i heard endlessly about and just finally wanted to give a complete read. Because i tried to read this book a few times but couldn't get through more then the first 40 pages.
And now that i read the entire thing i have to say that it was okay.
Yeah that again. I hated Rose. And since the entire book is told from her point of view that was a bit hard to get through.
But i enjoy the ideas in this story and i want to see where this series is going. So i will continue. And the writing was so fast and easy to get through as well that it makes it easy to decide that i can spend another 2 or 3 hours reading the next book and see if Mead makes this series worth my time or not. And also because i have a huge problem stop reading series once i really started to read them. But no matter which reason i will try and see if i fall i love with this series as everyone else seems to be once i read more then
this first book.
I'll give you the sun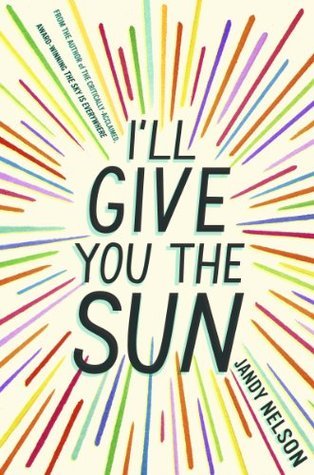 Written by
: Jandy Nelson
Stars: 3 ***
Genres: Non-Fiction, Real life, Biography, Autobiography
Pages: 352
Add to
Goodreads
Buy through:
Book Depository
Summary:
"Jude and her twin brother, Noah, are incredibly close. At thirteen, isolated Noah draws constantly and is falling in love with the charismatic boy next door, while daredevil Jude cliff-dives and wars red-lipstick and does the talking for both of them. But three years later, Jude and Noah are barely speaking. Something has happened to wreck the twins in different and dramatic ways.... until Jude meets a copy, broken, beautiful boy, as well as someone else - an even more unpredictable new force in her life. The early years are Noah's story to tell. The later years are Jude's. What the twins don't realize is tag they each have only half the story, and if they could just find their way back to one another, they'd have a change to remake their world.

"
Review:
Lets say it all together yet again:
Did not love it it was only okay, even though everyone else loves it!
YES! Another one of those!
Guys i read 24 books. And more then half to hem where just okay. I had a though month. So really it is no huge wonder that i am in a bit of a reading slump. Because that is just sad.
This was one of those books this month where i enjoyed one part and really did not like the other.
I enjoyed the Noah parts of the book and hated the Jude parts.
I could relate to Noah in some ways -his way to see the world and try to understand it all- while Jude was just... not a nice person in my option and the whole ghosts and magical aspects of that and how she believed in all that was just, it was just not very realistic or understandable to me.
And the book idea was great and the writing interesting but overall this book just lacked something that i could fall in love with.
So once again, a hyped book that everyone loves but i only find okay. I seemed to be collecting that at the moment. Maybe i should just not read hyped up books anymore.
Harry Potter and the Prisoner of Azkaban
Written by
: J. K. Rowling
Stars: 5 *****
Genres: Fantasy, Magical Fantasy, Adventure, Fiction
Pages: 468
Add to
Goodreads
Buy through:
Book Depository
Summary:
"Harry Potter is lucky to reach the age of thirteen, since he has already survived the murderous attacks of the feared Dark Lord on more than one occasion. But his hopes for a quiet term concentrating on Quidditch are dashed when a magical mass-murderer escapes from Azkaban, pursued by the soul-sucking Dementors who guard the prison. It's assumed that Hogwarts is the safest place for Harry to be. But is it a coincidence that he can feel eyes watching him in the dark, and should he be taking Professor Trelawney's ghoulish predictions seriously?

"
Review:
This is actually my very least favorite book of this series. Yes. I said it.
I know how many people love this book and i do to.
But this is just the least favorite of mine.
I said it quite a few times already that i really love this series. I am one of those people that just loves this series completely.
This book has just the biggest issues for me.
And the biggest one is actually how Rowling re-introduces Sirius Black to us readers in this. Because we already meet him in book one. He gave Harry over to Hagrid to let Hagrid bring Harry to Dumbledore. So why all of a sudden is Black supposed to be on this murder rampage for Harry if he could have done that already when Harry was a toddler?
Also we already have a horrible Defensive against Dark Arts Teacher every year and Snape. I mean seriously how many horrible teachers can one school have, that it is necessary to ad Trelawney? She just... really she makes the prediction every year that one student dies and the other teachers and the headmaster just let her do that? That is fine and dandy to tell a student every year that they are done in for? What the heck is if they are as believing as Lavander and actually do something stupid (-er then she normally would i mean we are talking about Lavander Brown here!)? That is just bad! Even for Hogwarts!
Also this book just misses a lot more then every other book. For one the friendship between Harry and Hermione, since why the heck would he get mad if he has a mass-murdering lunatic running after him and a broom comes out of nowhere that is so expensive that he things he would have to empty is stacked to the ceiling bank vault to buy it and not think that Hermione might be a good friend by wanting to check the broom? After all Harry just had a horrible broom moment twice in his life in Hogwarts of far

(Snape saving him in first year and Dobby in second just if you haven't read the books before or something)

so yes, fantastic idea to get mad if someone actually has a memory and a logical mind to find it suspicious! Lets through stones at her. Just what? Really Rowling? What where you thinking?
I did love Hermione and showcasing just what a strong character she really is. By not only making sure that Harry actually stop being stupid every once in a way, even though he is horrible to her, and studying that much and still helping Hagrid? That girl deservers a metal or something! Give her the award for being awesome!
I also loved that Voldemort takes a bit of a backseat in this book and the story focuses more on the characters and building the history of them and all that. Introducing more wizard law and just building the world so much as this book does.
And i love that all those characters are being introduced that will play a huge part in the rest of the series. And that Harry gets Sirius in his life and how they get to know Remus it just... i love this book but there are also so many issues that i am having with it.
So i am conflicted because i love it -5 stars so obviously i do!- but i also kind of hate it because of reasons just listed! Do i repeat myself to often in this wrap up? I think so, so lets just move on to the next book!
Random
Written by
: Tom Leveen
Stars: 5 *****
Genres: YA, Contemporary, Realistic Fiction, Bullying
Pages: 240
Add to
Goodreads
Buy through:
Book Depository
Summary:
"Who's the real victim here? Late at night Tori receives a random phone call. It's a wrong number. But the caller seems to want to talk, so she stays on the line. He asks for a single thing - one reason no two kill himself. The request plungers her into confusion. Because if this random caller actually does what he plans, he'll be the "second" person connected to Tori to take his own life. And the first just might land her in jail. After her Facebook page became Exhibit A in a tragic national news story about cyberbuylling,

Tori can't help but suspect the caller is a fraud. But what if he's not? Her words alone may hold the power of life or death. With the clock ticking, Tori has little time to save a stranger - and maybe redeem herself - leading to a startling conclusion that changes everything.."
Review:
This book is fantastic!
And i mean that in not the typical: i loved the writing and the characters and the story itself completely, but this book is fantastic because of the messages it sends to the readers! The writing is okay but nothing special, as are the characters and the actual plot. What makes this book special and fantastic and so wonderful really is how the author manages to make you think while reading and after wards, how this book makes you feel and makes you want to be better!
This is one of the best -or the best not sure yet- bullying books i read!
It is honest and realistic and eye opening.
And just really shows the biggest problem in bullying - that everyone likes to pick on either the bullying or the bullyer but nobody steps up and tries to stop the actual bullying from happening. And that is what is important in the entire mess, that people try to step in and stop it before it gets completely out of hand.
This book is not just about pointing fingers and saying that bullying is wrong, but really about saying that yes bullying is wrong, but standing by and doing nothing? that is just as wrong.
And it also say that not every one that bullies is a horrible person. Sometimes situations make you a bully without you really noticing that it happened. And that is horrible but that is real life. And what is really important after that is how you behave after it happens. That you accept what happened and work on being better, or just accepting that you are that kind of person that makes others feel bad about themselves to make yourself feel better. This book showcases that people have a choice to make. Every day. Be the bullied. Be the bullier. Be the person that stands by and let it all happen. Or be the one that tries to stop it.
Read this book. If not for the actual story, then for the message. Because it is one important message especially in todays world. So just... read this book.
Before I fall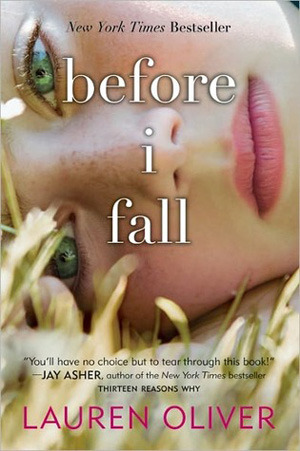 Written by
: Lauren Oliver
Stars: 3 ***
Genres: YA, Contemporary, Romance, Fiction, Bullying, Death
Pages: 470
Add to
Goodreads
Buy through:
Book Depository
Summary:
"They say 'live every day as if it's your last' - but you never actually think it's going to be. At least I didn't. The thing is, you don't get to know when it happens. You don'T remember to tell your family that you love them or -in my case - remember to say goodby to them at all. But what if, like me, you could live your last day over and over again? Could you make it perfect? If your whole life flashed before your eyes, would you have no regrets? Or are there some things you'd want to change?

"
Review:
Yet another first for me this month. This is the first Oliver book i read.
And i actually enjoyed it more then I thought i would. This one a book i heard mostly negative things about. And i actually thought most of this book was very well done.
Can you see a theme? The completely hyped up books i just find okay. And the books everyone finds just okay i find pretty great. Yeah well i love to be the person that swims against the stream. Apparently.
Anyways... this book was different and a lot les repetitive then i would have thought going into it. It tells the story about the girl who relives the same day of her lives a few times. And because of that i really thought it would be repetitive at least once or twice.
But oliver did a good job in making each day different. I personally did not enjoy half to he days because they were just to unrealistic for me. But the overall book was done well.
I did like the bullying aspects of it. And i did enjoy that the main character saw the problem and tried to chance it.
I did not love that "all it took" was her dying to understand what she did wrong. And that that was the turning point for her. I would have liked something else do be the case for her change of heart from going from being the person that is the bullier or at least the main stand-by of the bullier to trying to stop it from happening.
Overall this book was good. And if you want a different bully story, this is a good one to pick. And if you enjoy different stories and interesting spins this one good for that as well.
Elizabeth is missing
Written by
: Emma Healey
Stars: 3 ***
Genres: Mystery, Fiction, Realistic Fiction, Contemporary, Adult
Pages: 352
Add to
Goodreads
Buy through:
Book Depository
Summary:
"

Meet Maud. Maud is forgetful. She makes a cup of tea and doesn't remember to drink it. She goes to the shops and foggers why she went. Sometimes her home i unrecognizable - or her daughter Helen seems a total stranger. But there's one thing Maud is sure of: her friend Elizabeth is missing. The note in her pocket tells her so. and no matter who feels her to stop going on about it, to leave it alone, to shut up, Maud will get to the bottom of it. Because somewhere in Maud's damaged mind lies the answer to an unsolved seventy-year old mystery. One everyone has forgotten about. Everyone, expect Maud..."
Review:
This book was good. It was nothing overly special and i hope the english original text is better then the german translation i read, but the book does handle the topic of Dementia and/or Alzheimers good. I love that it is fro the perceptive of the person suffering to give a real view into what it might be like for the person having the illness and trying to understand why people treat them differently and why it is so hard sometimes to remember things. It just is a very eye opening view into the world of Alzheimer i think.
The actual story is not that fantastic or special, but i think it is very important that topics like this get written about and talked about. So i loved the book for that.
And i also love that this book did not sugar coat it. This book really pointed out that nobody will take a Dementia sick person for real if they try to say that they think someone is missing. Because everyone just believes that they made it up in their heads and everything is fine. And i think that is really how it is. You can't constantly believe every word the Dementia sick person tells you because you never know what is real and what is not. But how do you make sure that you really do take what is real as face value?
It is hard and this book showcases that beautifully.
It was a nice book and if the writing would have been better -or the translation i should say- i would have loved it. Sadly I can't have everything. This book was still great!
The Blind Assassin
Written by
:Margaret Atwood
Stars: 3 ***
Genres: Fiction, Historical Fiction, Mystery, Contemporary
Pages: 544
Add to
Goodreads
Buy through:
Book Depository
Summary:
"Laura Chase's older sister Iris, married at eighteen to a politically

prominent industrialist but now poor and eighty-two, is living in Port Ticonderoga, a town dominated by their once-prosperous family before the First war. While coping with her unreliable body, Iris reflects on her far from exemplary life, in particular the events surrounding her sister's tragic death. Chief among these was the publication of The Blind Assassin, a novel which earned the dead Laura Chase not only notoriety but also a devoted cult following. Sexually explicit for its time, the blind assassin describes a risky affair in the turbulent thirties between a wealthy young woman and a man on the run. During their secret meetings in rented rooms, the lovers concoct a pulp fantasy set on Planet Zycron. As the invented story twists through love and sacrifice and betrayal, so does the real one; while events in both move closer to war and catastrophe."
Review:
This is another first for me, my first Atwood. I know. I never read her before. But i just never really got my hands on her books.
And this is the only one my library had. So i started with that.
And it was not the perfect book to start with.
I mean the book really showed what a fantastic writer Atwood is. Because it had a two part story, one told by the actual book characters and one part is a story written by one of the book characters. And Atwood did a fantastic job in making the story inside this book feel as if it was written by someone else entirely. As if this book really had been written by two different people.
And that takes talent!
Sadly the story inside this book was not my case at all and the overall story plot of this complete book was not my favorite.
It was okay. And it made me want to read more Atwood. So there is that. Positive side found! Moving on!
Harry Potter and the Goblet of Fire
Written by
: J. K. Rowling
Stars: 5 *****
Genres: Fantasy, Fiction, Magical Fiction, Adventure
Pages: 796
Add to
Goodreads
Buy through:
Book Depository
Summary:
"When the Quidditch World Cup is disrupted by Voldemort's rampaging supporters and the terrifying Dark Mark is resurrected, it is

obvious to Harry that, far from failing, Voldemort is getting stronger. The ultimate symbol to the magic world of the evil Lord's return would be if the one and only survivor of hid each curse, Harry Potter, could finally be beaten. So when Harry is entered for the Triwizard Tournament - a competition between three wizarding schools to find the ultimate magician - he knows that rather than win it, he just has to get through the trails alive. "
Review:
My last Harry Potter i got to in November.
And one of my favorite books in the series.
This book just has it all. The love, the friendship the character growth, the betrayal the action and the needed pushes to get the overall series storyline moving forward. It also has the first death actual death that we read "live" about in this book series and it always breaks my heart. Because it just happens so fast and sudden that for some reason each time i read this book i expect it not to happen. And of course it still does and i am always a bit heartbroken about it.
But i love the relationship between Harry and Hermione in this (or friendship what ever you want to call it!) and i love how Ron really shows how horrible he can be and how easily he leaves his friends side if they can't work in his favor. And I love Fred and George in this.
I just.... there are so many wonderful and sad moments in this book. I just love it. It is fantastic!
Peter Pan
Written by
: J. M. Barrie
Stars: 3 ***
Genres: Fantasy, Childrens Fiction, Fiction, Classics, Adventure, Children Book/story
Pages: 207
Add to
Goodreads
Buy through:
Book depository
Summary:
"One starry night, Peter Pan and Tinker Bell lead the three Darling children over the rooftops of London and away to Neverland - the island where lost boys play, mermaids splash and fairies make mischief. But a villainous looking gang of pirates lurk in the docks, led by the terrifying Captain James Hook. Magic and excitement are in the air, but if Captain Hook has his way, before long, someone will be walking the plank and swimming with he crocodiles...

"
Review:
And the last big fist for November!
I read Peter Pan for the first time in my life!
Yes! You read that right
I just grew up where English is not the main language and my mom loved Astrid Lindgren so yeah, Peter Pan was not a thing in my childhood.
I actually learned very late that the movie "Hook" was made loosely based on a book. Sometimes it takes a while for me. What can i say.
To the actual book!
I liked it well enough. I think Peter is an asshole! He really is. (and i really don't watch my language in this post for some reason! I don't know why i feel like swearing so often on here when i almost never do in real life! Strange!) But the overall story is cute and a great children story.
And i love that the dog is the nanny and that is just how it is. We don#t get an explanation of if the dog can speak human or if the humans just understand the dog. Or if it is just acceptable that the nanny never talks with anyone even the children. I have no idea. But i loved that part!
And i do recommend this book if you have not yet read this story as i had.
And the Penguin Chalk edition -shown in the picture- is really beautiful and costs under 7€ so that is pretty fantastic if you ask me.
Ten Tiny Breaths
Written by
: N. A. Tucker
Stars: 3 ***
Genres: New Adult, Romance, Contemporary, Romance, Fiction, Drama
Pages: 289
Add to
Goodreads
Buy through: Book Depository,
Summary:
"Four years ago Kacey Cleary's life

imploded when her car was hit by a drunk driver, killing her parents, boyfriend and best friend. Still haunted by memories of being trapped inside, holding her boyfriend's lifeless hand and listening to her mother take her last breath, Kacey wants to leave her past behind. armed with two bus tickets, twenty-year-old Kacey and her fifteen-year-old sister, Livie, escape Grand Rapids, Michigan to start over in Miami. Struggling to make ends meet, Kacey needs to figure out how to get by. But Kacey's not worried. She can handle anything -anything but he mysterious neighbor in apartment 1 D. Trent Emerson has smoldering blue eyes, deep dimples, and he perfectly skates that irresistible line between nice guy and bad boy. Hardened by her tragic past, Kacey is determined to keep everyone at a distance, but their mutual attraction is undeniable and Trent is determined to find a way into Kacey's guarded heart - even if it means that an explosive secret could shatter both their worlds."
Review:
I heard very mixed things about this series. And i understand why. But i did enjoy this. It was a good adult contemporary that thankfully did not only focus on sex.
Because it really is a thing that many contemporary authors in adult fiction seem to forget that it is contemporary and not erotica that they are writing. So that this book kept it to a minimum was an enjoyable surprise for me.
I also liked that the older sister did what she had to because she had to and not because someone told her to or made her do it... i think it is very realistic that one sister steps up if necessary and just does what is needed and that is it. No need to talk about it.
I did not love the big "twist" and the big reveal because it was just... overdone and unnecessary because the twist was completely transparent and the reader could see that one coming the second one of the characters was introduced and the big reveal was completely unnecessary because of the transparently of the twist. If that is understandable for anyone else but me.
But all in all this was a good adult contemporary and i actually think one of those books that is perfect for everyone that wants to try their hands on adult from YA.
And while this is nothing special overall it is still a good book and worth reading, especially if you finally want a book that actually as a very nicely done sibling relationship!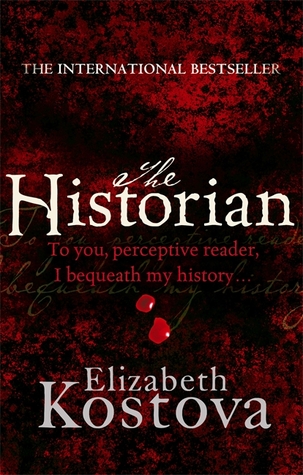 The Historian
Written by
: Elizabeth Kostova
Stars: 2 **
Genres: Fiction, Historical Fiction, Fantasy, Horror, Paranormal, Mystery
Pages: 704
Add to
Goodreads
Buy through:
Book Depository
Summary:
"Late one night, exploring her father's library, a young woman finds an ancient book and a cache of yellowing letters addressed ominously to 'my dear and unfortunate successor'. Her discovery plunges her into a world she never dreamed of - a labyrinth where the secrets of her father's past and her mother's mysterious fate connect to an evil hidden in the depths of history.

"
Review:
Okay, did you ever go into a book really thinking you know what to expect and then just have the book turn around on you an be about something completely different and not at all what you expected it to be and because of the kind of not like it or enjoy it at all really?
because that is what happened here and with this book and me i think.
I did not expect to have a glorified Dracula story with this book. I just didn't. I mean i knew that Vampires where in solved in some way, because it said to sin the Genres of the book and I saw it in the Paranormal/vampire section of bookstores. So clearly i knew that those where part of the book.
But i did not expect this huge book to be more or less completely about the topic of "what if Dracula was real".
And that kind of made the book not as good for me. Because i wanted something different. I wanted something new and exciting and just... not this book.
And i know that this is personal. But i also know that i can not be the only person that ever read a book going into it expecting something completely different and be disappointed with what the book actually was about. So this is nothing new.
I will try this book again sometime in the future and see if i will enjoy i more when i actually know what i am getting into. Or if i am more in the mood to read about Dracula and his life story. This time was just not it.
But if you love Dracula? This is the book for you!
Bittersweet
Written by
: Miranda Beverly-Whittemore
Stars: 3 ***
Genres: Fiction, Mystery, Adult Fiction, Contemporary
Pages: 416
Add to
Goodreads
Buy through:
Book Depository
Summary
:
"On scholarship at a prestigious East Coast college, ordinary Mabel Dagmar is

surprised

to befriend her

roommate, the beautiful, while, blue-blooded Genevra Winslow. Ev invites Mabel to spend the summer at Bittersweet, her cottage on the Vermont estate where her family has been holding court for more than a century; it's the kind of place where children twirl sparklers across the lawn during cocktail hour. Mabel falls in love with midnight skinny-dipping, the wet dog smell that lingers near the facts and the moneyed laughter that carries across the still lake while fireworks burst overhead. Before she knows it, she has everything she's ever wanted: friendship, a boyfriend, actress to wealth, and, most of all, for the first time in her life, the sense that she belongs. But as Mabel becomes an insider, a terrible discovery leads to shocking violence and revealed what the Winslows may have done to keep their power intact - and what they might do to anyone who threatens them. Mabel must choose: either expose the ugliness surrounding her and face expulsion from paradise, or keep the family's dark secrets and make Ev's world her own."
Review:
I picked this up in the library because it sounded interesting. And the beginning of it was good. But honestly not even half way through this book it just started to get boring for me. There was nothing special about it. Not the writing or the characters -which were very typical of this type of story the perfect rich girl and the plain old poor one that had nothing that made them worth reading about, sadly.
The story itself was not that interesting as well and while it had its good moments and i did like how the book ended the entire thing was nothing special.
If you love family stories with secrets, if you love the very mellow mystery that has nothing huge happen but at the same time is still a mystery that surprises you with what it is, this might be the book for you.
I personally like my mystery with a bit more pepper, a bit more spice if you will. What i mean by that is that i need a bit more to a story then this book gave me to really love it, especially if it said to be a suspenseful book. Overall it was okay for me. But nothing that i will remember in the long run or want to re-read again in the next ten years.
So those where all 24 books i read in November! And since this post is forever long already. I will stop it here.
And hope to finally be more on top of my postings from now on!
I would love to hear from any one you if you read any of the books on here and want to share your option with me!
Let me know!
Write more later....