Top 10 Tuesday: Books i want to get grabby hands on, right now!
New Release talk time!
Who doesn't love to gush about new books? I mean talking about books in general. But new books are also pretty fantastic to talk about!
If it is not possible to get the actual books right now, i mean. Because the actual book? thousand times better then just talking about it. But yeah... that is not possible so lets just talk about them instead!
So i actually made separations in this list. can you believe it? I had a hard time!
The first is a beautiful edition that i just have to have because... reasons!
And then come a few sequels that i can't wait to read for reasons that will be listed
And then there are the rest of the books i just.... i want to read them, now!
No need for even more explanations because i will babble on about them when i actually list them. So lets just... go.
First of lets talk about the beautiful edition to get that out out the way!
1. Harry Potter and the Chamber of Secrets - Illustrated Edition by J.K. Rowling and Jim Kay
First off, there is no cover for this one yet. Can i just say that that is kind of sad? I mean i know this book will most likely be coming out in October or something but still i wish there was at least a cover release already!
And I already have three editions of this book already and should really not feel a need to buy a forth.
I mean i have reasons for owning so many! I am not just unnecessarily buying editions! Honestly!
Let me explain! I have my very first -and an actual first edition as well- which is my german one. Which made me fall in love with the series (my german set not just this specific book) so clearly i can't get leave those behind in any way at all! And then i have my first english edition Which i honestly read to death. and they all deserve some kind of ceremony and deserve to be put to rest somewhere nice Like my bookshelves!
And the i have a new version. Because as i just said my original english edition is read to death and should not suffer anymore. So i got a beautiful new one. Which is also a good reason to not buy another beautiful new one. Other then it is illustrated and i want it. And the first one is beautiful! And it is Harry Potter. And who doesn't want to own more Potter books then they need? And i don't need no stinking reasons! Lets just move on and talk about something else!
And lets now move on to the few sequels i want to get my grabby hands all over as soon as possible!
2. A Court of Mist and Fury (ACoTaR #2) by Sarah J. Maas
While i did not love the first book -especially compared to other people that read this book- I can't wait, absolutely can't wait!!!!, to get my hands on this second book because Rhysand plays a bigger role in this second book. And I just loved that guy he kind of made the first book for me combine with Lucien.
I really hope both of them have big roles in this book. I mean i know that Rhysand will have a good amount of time in this book but i really hope that Lucien will not be forgotten!
I also can't wait to read more of Maas' beautiful writing! I love her writing and i really hope she makes this book fantastic. Did i mention i can't wait? Because really i can't. I don't understand why this doesn't come out on January 3rd instead of May 3rd. But oh well... At least we have an actual release date!
3. Frost like Night (Snow like Ashes #3) by Sara Raasch
Another book where there is no cover!
I
could kind of cry about the because the covers are beautiful for this series and i want the next cover! And a release date!
Anyway....
I really loved Snow like Ashes. And can't wait to pick up Ice like Fire. And at the same time i don't really want to read that book because then i have to wait for sometime in 2016 to get my hands on this book (like i said no release date yet so i have literally no idea when this one is coming out which ... just... people come on!). So yeah... I can't wait to get more info. Or the entire book. I would prefer the entire book as soon as possible!
4. A Torch Against the Night (An Ember in the Ashes #2) by Sabaa Tahir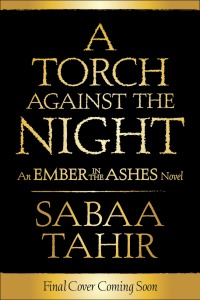 So confession!
I have not yet completed An Ember in the Ashes. I am reading this book since May 2015.
I am not even kidding, sadly.
I kind of wish i was. And by kind of i really do mean i wish i was kidding about this!
I struggle through the first book since May. And in a way i think that is because i gone into this book believing it was a stand-alone and i really wanted to read a stand alone at that point when i started it.
And then about 100 pages into i got the messages that it was not as and alone and that kind of just made me pull the emergency breaks for some reasons on this book.
Don't as me way.
I
can't explain it.
What i do hope is that since the second book is coming put in August 2016 -and I can't wait for it to come out- that i will finally be able to finish the first book knowing that the second one is coming. I have no idea if that really works or not. But no matter if i am still struggling over a year later though the first one or not, i can't wait for this second one to come out simply so that i can finally finish the book i am currently reading for ever. And hope that the second book is really the last book in this series/duology and that it will not be decided that this book makes it better as a whole blown series. Because then i have no idea what i am going to do. No matter. I want to get my hands on this book so that my head understands it can let its Hulk grip on the emergency break of reading slump for Ember in Ashes go and just... go to rest. Or something.
I could go on with sequels. But i won't because there are more books i want to talk about! So lets move on to others!
5. This savage Song by Victoria Schwab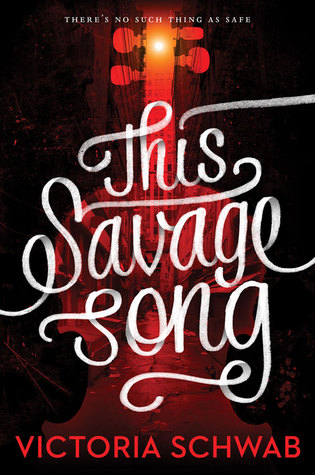 I finally picked up "Vicious" in 2015. And i loved it. I mean I LOVED IT!
The writing, the characters (mostly), the story itself it was just... i loved it. So beautiful!
But that was the first and only book of hers that i read up until this point.
And i will really try my best to read the first two books of her other series (A darker shade of magic, is what i am talking about here!) since the second one is coming out in 2016 as well and i love starting series when the second book is out already instead of having to wait for ever.
But then this series starter of hers caught my eyes. Because this book is about a city has been overrun with monsters and just... yes! I want to read her kind of writing and character and story building with that story plot. So i can't wait until June 2016 to get this book. and yes. I will pre-order this book. Most likely. Or actually go out and buy this in a store. Which would be something. I just... GIVE IT TO ME!
6. Meet me here by Bryan Bliss
Okay so this book mostly pulled me in because of the cover.
What can i say, beautiful covers suck me in and when i read the summary and it sounds interesting i want to read it.
This book has both. A beautiful cover and a really good sounding summary -which is even better then just interesting sounding just saying!
This book is apparently about a boy that has to decide on graduation night if he wants to follow his family path of actually going to leave for the army in the morning or if the night with an old friend will change his perspective on his world.
That just sounds... i love those kinds of books if they are done well and honestly it sounds like this could be done very well.
7. The Forbidden Wish by Jessica Khoury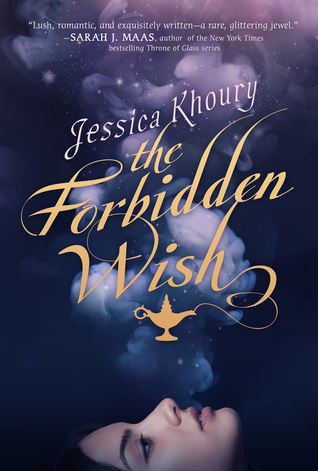 I got a chapter sneaky-peaky thing through NetGalley for this book.
And honestly i was so stupid reading that at the beginning of December.
Because now the only book i really want to read is this. Because that little snipped? Beautiful! So beautiful and wonderful and different and why the heck did this version of Aladdin did not come out already?
I can not wait until the end of February when this comes out so that i can finally really read the book because, just... GIVE ME THIS BOOK ALREADY!
I want to get out of this funk where i only one to continue reading this by finally having read this and see if it continues on this fantastically as the firs few pages where or not. I just... i want to read this and get out of the book hangover that i have from basically reading nothing from this book!
So yeah... clearly i want to read this book and can't wait for it to finally get released. And really hope that i will find a book that gets me out of this reading funk this books few pages put me in and not until i get my hands on it on February 23rd because that would be horrible!
8. In Real life by Jessica Love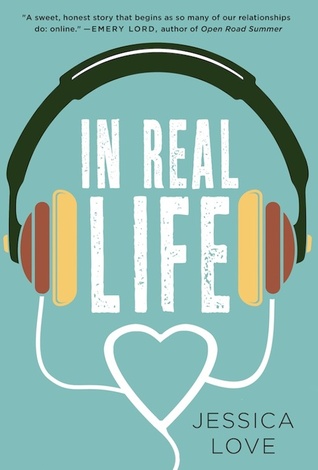 What i know about this book is that two people get to know each other through the internet. And then when they actually meet, one of them is not how they portray themselves on the internet.
Can you believe that there is a book about that kind of story? I couldn't when i read that is what this book is supposed to be about, so i want to read it and see if this book really does showcase that most people are not necessary how they portray themselves on the intent in real life.
9. Salt to the sea by Ruta Sepetys
I LOVED "Between Shades of Grey" and it became #1 one of my "push on everyone no matter the age or reading preferences" books for me. Because this is just a must read book for me. Sepetys' managed to write such a honest and realistically feeling book about war that shows the horrors and just actual human beings in war situations that everyone has to read it and experience war this way.
And when i heard she is coming out with the book that shows the story of Lina's cousin.
And even if the book wouldn't be about Lina's cousin?
I would still want to read Sepetys' write another World War II book, because she just... i want to see what else she has to say about the topic.
Also the cover?
As shockingly beautiful as the first cover and book where, so i hope that this book cover once again fits perfectly with the story and has the beautifully hunting story the cover promises.
10. Frannie and Tru by Karen Hattrup
All i know about this book is about Frannie and her cousin Truman who is gay and comes to live with her family for the summer because his parents can't deal with him being gay.
I also know that the original title was "Prettyboy" which is just... why the heck was that changed?
Anyway... i have no idea what else happens in this book, or what else it is about, or even when it comes out. I don't need to. I just want to read it and i will wait, not patiently. But i will wait and once i comes out i will read it!
I could go on and make this very easily a top 30 or 40 Tuesday list. But i won't because that would just be too much.
And i also won't think anymore about this list because when i do i will notice that i left out a huge amount books i can't wait for. So i just... this is it.
I would love to hear the books that you can't wait to come out, because yeah, new releases let me know about them ;)
Write more later....