Waiting on Wednesday: The Crown's Game
Waiting on Wednesday is a weekly event hosted over at Breaking the Spine, so head over there to join in or see what it is all about :)

The Crown's Game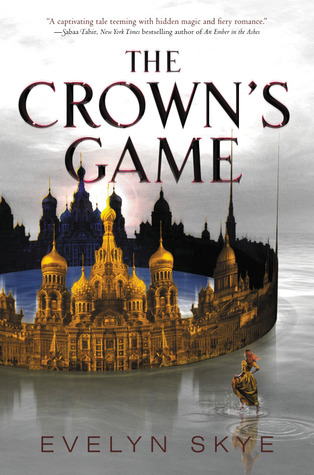 Written by
: Evelyn Skye
Publisher: Balzer + Bray
Release Date: May 17th, 2016
Genres: Fantasy, YA, Historical Fiction, Magic, Romance
Pages: 416
Buy: Book Depository, Amazon.de, Amazon.com
Add to Goodreads
Summary:
"

Via Andreyeva can summon the snow and turn ash into gold. Nikolai Karimov can see through walls and conjure bridges out of thin air. They are enchanters - the only two in Russia- and with the Ottoman Empire and the Kazakhs threatening, the Tsar needs a powerful enchanter by his side. And so he initiates the Crown's Game, an ancient duel of magical skill - the greatest test an enchanter will ever know. The victor becomes the Imperial Enchanter and the Tsar's most respected adviser. The defeated is sentences to death. ...."
Way i am waiting....
There are many different reasons why i want to read this book. For one the author sounds kind of bad ass with being offered a job to the CIA. That just sounds
very
cool to me. Maybe i am the only one. But bad-ass. Just saying.
And the overall story plot sound kind of similar to the "Grisha Trilogy" and i loved that. So i want to see if i can find something similar.
I also just love the kind of magical story telling and this sounds good.

Have you heard of this book? do you want to read it?

Write more later....