waiting on Wednesday: Enter Title Here
Waiting on Wednesday is a weekly event hosted over at
Breaking the Spine
, so head over there to join in or see what it is all about :)
Enter
Title
Here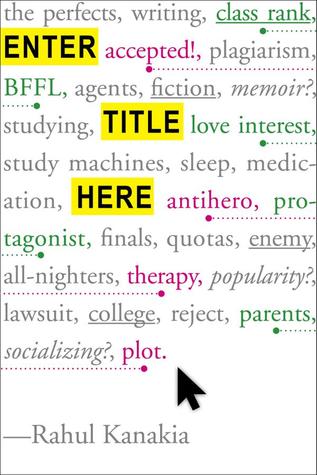 Written by
: Rahul Kanakia
Publisher: Disney-Hyperion
Release Date: August 2nd, 2016
Genres: YA, Contemporary, Realistic Fiction, Fiction
Pages: 352
Add to Goodreads
Summary:
"I'm your protagonist - Reshma Kapoor- and if you have the free time to read this book, then you're probably nothing like me.

Retime is a college counselor's dream. She's the top-ranked senior at her ulna-competitive Silicon Valley high school, with a spotless academic record and a long roster of extracurriculars. But there are plenty of perfect students in the country and if Reshma wants to get into Stanford, and into med school after that, she needs the hook to beat them all.

What's a habitual over-achiever to do? Land herself a literary agent of course. Which is exactly what Reshma does after agent Linda Montrose spots an article se wrote for Huffington Post. Linda wants to represent Reshma, and with her new agent's help scoring a book deal, Reshma knows she'll finally have the key to Stanford. "
Way i am waiting....
Well for one i always wanted to got Stanford, but that school is just horrendously expensive, especially for International students!
And i plan to go to med school.
And i want to write a book.
Not that i compare myself with her, even if it sounded like that.
What i want to say is that this book sounds right up my alley, simply because it has a lot of points in it that i am interested in in my life. So i want to read it because of that.


Have you heard of this book? do you want to read it?

Write more later....