Book Review: The Raging Light
As i said before i am slightly behind on all the stuff i wanted to post. I am catching up. This is one of those things.
I wanted to post this in December when i first read this. But i didn't get to it, sadly.
So instead of doing it in December I am just posting it in January because no matter the month, this book was
fantastic! I want to talk about it.
Lets talk about it!
This Raging Light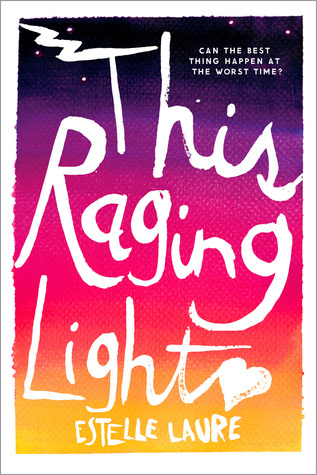 Author: Estelle Laure
Language: English
Pages: 288
Overall rating: 5 out of 5
Book series: No
Genres: YA, Contemporary, Romance, Fiction, Realistic Fiction,
Mental Health, Health problems, Family problems, Sisters, growing up
Book received through:
NetGalley
Get the book: Book Depository
Summary on the book:
"Can the best thing happen at the worst time?

Her dad went crazy. Her mom left town. She has bills to pay and a little sister to look after. Now is not the time for level-headed seventeen-year-old Lucille to fall in love. But love - messy, inconvenient, love - is what she's about to experience when she falls for Digby Jones, her best friend's brother."


Favorite thing/moment in the book: That after finishing it it was a perfect book all about the competence of a teenage girl that did what she had to do, no matter if it was hard, or not the perfect thing. It was real and honest and rare.
Worth reading?
YES! Read this book and get all the feels. GET ALL THE FEELS!!!!! And even if you don't love the story, the book will give you a great view into a different kind of live, that you can be thankful for to never have experienced growing up.
Full review:
First thought after finishing the book: That is the kind of YA Contemporary i love to read!
This is one of those books that you have read to understand why it is as fantastic as it is.

And you have to read it completely through to just completely fall in love with the whole story and all it complex details and realistic moments of love between sisters and the strength of a girl that most people think is to young to do anything herself.
This books shows what teenagers are capable of, be it stepping up, or noticing that they are in over their heads. And more then that,t this book shows that sometimes not all people are horrible, but can actually be helpful and actually nice, simply to be nice.
This book is one of the first books that show a wonderful sister relationship, where both sisters really just try to help each other out, do the best they can, and not get something out of the other one. They simply want to be there for each other. And that was beautiful. Really what is more beautiful then that?
This book is not perfect! I am not saying that this book is perfect and that is why i loved it as much as i did. It has its flaws and one of the most noticeable ones for me was the writing.
The writing feels very young- sometimes even overwhelmingly childish!- and at the first chapter i was really thinking about putting this book down and not continue. I am so thankful that i didn't do that. Because even though the writing seems very childish, espceaill yin the moment Lucille -the main character- describes what is happening, that somehow works perfectly. Because the writing is so innocent and hopeful and so exactly the opposite of what is actually happening and going on that it just works. It makes this book so much better because the writing doesn't really prepare you for what is going to happen and that makes this book push you in the feels even more!
Read this book! It is beautiful! This book is heartbreaking. It is honest and give you hope and makes you believe in the good in people again. And kind of hate some people! And at the same time it kind of crushes you and wants you to believe that something like this will not really happen in the real world, while at the same time reminding you how wonderful your own life is because you did not have to go through that at the age those two sisters are.
Read this book, but don't expect it to be like any other book you read. Go into it knowing that it will be different. The writing will be different, the story telling will be different just as the story itself is. This is not the typical YA book. This is different. And wonderful because of that!


READ THIS BOOK AND FEEL THE FEELS THAT COME WITH IT!!!!
Do you want to read this book?
I would love to hear from you guys and what you think about this book :)