December 2015 wrap up
Who likes a very late wrap up that is actually not worth overly much since i basically read nothing?
I hear you all scream: I DO, I DO. Clearly. So here you guys go!
As i said, i didn't read a huge amount of books in December, sadly. I did have a big plan. But then i read the sneak-peak for "The Forbidden Wish" (which you can see more about in my WoW post) which only made me really in the mood for reading this book and only this one. And since Forbidden wish comes out at the end of February clearly i couldn't pick the book i actually wanted to read up and read that. So instead i had to literary fight with myself to pick up books.
I only managed that with four. I mean the books i read where pretty great -4 or 5 stars!- but still not what i wanted to read -amount vise.
Instead of continuing to babble, here are the infos and mini-reviews for those four books i did read.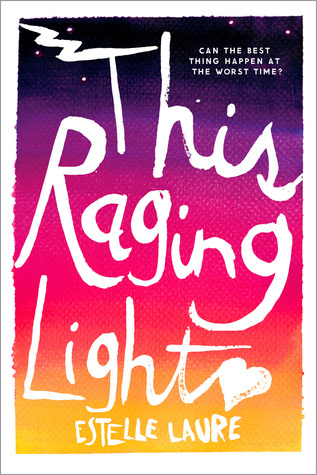 This Raging Light
Written by
: Estelle Laure
Stars: 5 *****
Genres: YA, contemporary, Romance, Fiction, Realistic Fiction, Mental Health, Family, Family problems
Pages: 288
Book received: NetGalley
Add to
Goodreads
Buy through:
Book Depository,
Summary:
"Can the best thing happen at the worst time?
Her dad went crazy. Her mom left town. She has bills to pay and a little sister to look after. Now is not the time for level-headed seventeen-year-old Lucille to fall in love. But love - messy, inconvenient, love - is what she's about to experience when she falls for Digby Jones, her best friend's brother."

Review:
This is one of those books that you have read to understand why it is as fantastic as it is.
And you have to read it completely through to just completely fall in love with the whole story and all it complex details and realistic moments of love between sisters and the strength of a girl that most people think is to young to do anything herself. This books shows what teenagers are capable of, be it stepping up, or noticing that they are in over their heads. And more then that,t this book shows that sometimes not all people are horrible, but can actually be helpful and actually nice, simply to be nice.
READ THIS BOOK AND FEEL THE FEELS THAT COME WITH IT!!!!
But be open for a different writing style and a different view into the world that you might have not experienced before. But if you are someone that can do that? This book is wonderful and beautiful.
Tibet on Fire: Self-Immolations Against Chinese Rule
W
ritten by
: Tsering Woeser
Stars: 4 ****
Genres: Non-Fiction, Asia, China, Cultural Book, Religious
Pages: 128
Book received: NetGalley
Add to
Goodreads
Buy through:
Book Depository,
Summary:
"Why Tibetan monks are setting themselves on fire.
Since the 2008 uprising, nearly 150 Tibetan monks have set fire to themselves in protest at the Chinese occupation of their country. Most have died from their injuries. Author Tsering Woeser is a prominent voice of the Tibetan movement, and one of the few Tibetan authors to write in Chinese. Her stirring acts of resistance have led to her house arrest, where remains under close surveillance to this day. Tibet on Fire is her account of the oppression Tibetans face and the ideals driving those who resist, both the self-immolators and other Tibetans like herself."
Review:
This book is just a little over 100 pages long and is packed full of information about Tibet, the people there and the people that see their only way out of a Governmental ruling by literally setting themselves on fire.
It was an eye-opening book about an area of the world that up until now, I honestly did not know a lot about, mostly that Tibetan monks existed (which was thanks to Brad Pitts movie "seven years in Tibet"). But i did not know that they set themselves in flames, that they burned themselves alive in hopes that their self sacrificing would bring a better future to those they leave behind.
This book showcases the struggles the tibetan people have to still live through and fight through and give their lives to.
I can't even imagine -and quite honestly i do not want to!- putting myself on fire, even as the last resort to get a desperate message across. And yet many tibetan people actually do that to themselves.
This book is important! It shows a part of the world that should no longer exit in 2016! it shows the big struggles many people around the world -in parts that our western world doesn't look at very often- still have every day to simply live their daily lives.
I really hope that this book will get well known and more people understand what is happening around our world that we all should fight together against to stop peoples sufferings.
Falling for Christmas
W
ritten by
: Kate Hewitt
Stars: 4 ****
Genres: Christmas novel, romance, novella, adult
Pages: 110
Book received: NetGalley
Add to
Goodreads
Summary:
"welcome to Creighton Falls, New York... a town time forgot where miracles happen...
Glamorous city girl Hannah Ford wasn't thinking when she walked out of a Christmas party and drove three hundred miles into a snowstorm; she just needed to escape. Thankfully local carpenter Sam Taylor comes to her rescue, and the unlikely pair are forced to spend a snowed-in Christmas together.

All Sam planned for Christmas was to get drunk alone. The holiday has always been something to be endured, until Hannah tumbles into his life, making it magical. Now Hannah and Sam have a chance to have a Christmas together.... and make it the best one either o them have ever had. But can on night out of reality turn into something that's lasting and real?"
Review:
This was a cute and fluffy romance novel that was perfect for Christmas cuteness. Or everyone that needs a little cuteness and quite standard meet-love- drama-happy-ever-after kind of romance books.
The story doesn't have any overly deep moments -clearly being a novella and all- and is honestly very clique from start to finish, but what else can be expected from this type of book and story line?
But it was a sugar cute book full of Christmas moments and snowy wonderland, and really what more do you want from a romance Christmas novella?
Who doesn't like that at least a little over the holidays?
So really it was perfect for what i needed at the moment. Not overly long, cute fast and easy to read and something that i don't have to think about again.
Rogue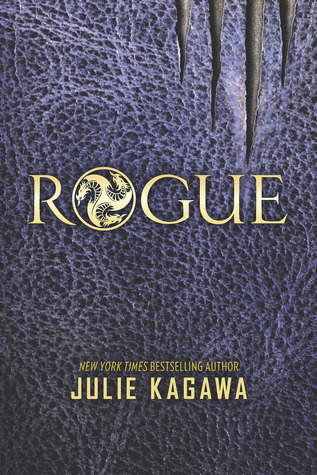 W
ritten by
: Julie Kagawa
Stars: 4 ****
Genres: YA, fantasy, dragons, romance,
Pages: 444
Book received: e-book
Book series: #2 in the Talon series
Add to
Goodreads
Buy here: Book Depository
Summary:
"Deserter. Traitor. Rogue.
Ember Hill left the dragon organization Talon to take her chances with rebel dragon Cobalt and his crew of rogues. But Ember can't forget the sacrifice made from her by the human boy who could have killed her - Garret Xavier Sebastian, a solider of the dragons lying Order of St. George, the boy who saved her from a Talon assassin, knowing that by doing so, he'd signed his own death warrant.

Determined to save Garret from execution, Ember must convince Cobalt to help her break into the Order's headquarters. Witch assassins after them and Ember's own brother helping Talon with the hunt, the rogues find an unexpected ally in Garret and a new perspective on the underground battle between Talon and St. George.

A reckoning is brewing and the secrets hidden by both sides are shocking and deadly. Soon Ember must decide: Should she retreat to fight another day ... or start an all-out war?"
Review:
This was pretty great, not as fantastic as the first one, but still pretty great.
I enjoyed how the "rogue dragons" and the "human" worked together and i liked how this book ended between those three.
I also still mostly enjoyed Ember as a character and her struggles she goes through.
I did not like the talon parts of this book, mostly because it felt rather typical "bad-guys-doing-bad-things" or "government: BAD" and not anything new or exciting or really special. Which honestly we are talking about a Dragon-government! Please do a bit more exciting things then what is happening here.
Still overall it was an okay second book, that actually had stuff happened instead of just moving the story from point a to b. It had lots of action moments and interesting information about the world and character development.
I am excited to see what the third book in this series is going to go -and hopefully get a bit better dragon government stuff! and see where Ember is going to take this book.
Quite honestly after this book i have no idea where Kagawa will take this series and where this story is going to go. So actually that is pretty fantastically done, i think, mostly because how often do you read a book in a series where you have no idea where the heck the next one will go?
All in all this was a great book and a fantastic dragon story that is completely different then any other dragon series i read before, and while some moments didn't make a huge amount of sense or where really necessary or could have been done a bit better, it was still pretty great and very fun to read. And honestly? This book was never boring.
And that is also pretty great to have in a book.
If you haven't read this book yet? I highly recommend starting this series.
I know this is late, but i would love to hear what you read in December.
Or what you already read in January and want to share -because book sharing is caring!
Write more later....