Waiting on Wednesday: Soldier (Talon #3)
Waiting on Wednesday is a weekly event hosted over at Breaking the Spine, so head over there to join in or see what it is all about :)

Soldier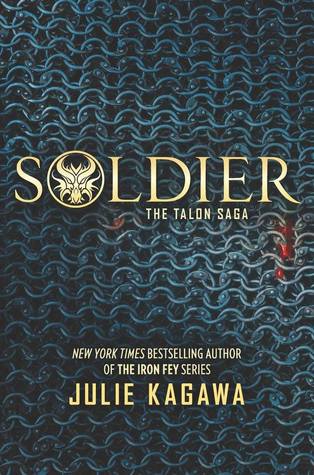 Written by
: Julie Kagawa
Publisher: Harlequin TEEN
Series: Talon #3
Release Date: April 26th, 2016
Genres: Fantasy, Dragons, YA; Romance, Shapeshifters
Pages: 416
Buy: Book Depository
Add to Goodreads
Summary:
"

A fighter dedicates to saving humankind from dragons in strictest secrecy.
That was what Garret Xavier Sebastian thought he was part of as a soldier of the Order of St. George. What he learned from a fiery dragon hatchling twisted all he believed in and set him on a collision course with certain death - but not without a chance to put things right.
Betrayed and on the run again, Ember and rogue dragon Riley discover an unthinkable truth about talon and St. George. They'll need Garret's skills and insider knowledge of the Order to negotiate an impossible deal - and if they fail, there will be no way to stop all-out war."
Way i am waiting....
This is the first non-first book of a series that i am talking about in this weekly meme. Because i really enjoyed the Talon series in 2015 and i can't wait to see what this book is going to be all about and where it will push the series -because i just saw when i prepared for this post that this is a 5 book series, so i really am interested to see where this book will push the series and if an actual war is going to happen or if someone is going to get killed. I am just... i want to know what is happening next!!!!
Anyways... this series has its down sides but overall it is fantastic and is all about dragons and how they are trying to survive.
And how humans judge them simply because they are different. Basically. I mean there is more to the story. Clearly. But overall, that is what it is about.
And i do love a good misunderstanding and clearing that shit up book.
And the writing is pretty great. While non of the characters are completely swoon worthy, or actually even great, they are interesting and i do want to see where it is all going and what will happen in the next installment.
I just want to go back to Ember and Riley and Garret and see what Ember's brother is going to get up to now. So just... give me that book!!!!


Have you heard of this book? do you want to read it?

Write more later....