Waiting on Wednesday: The Forbidden Wish
Waiting on Wednesday is a weekly event hosted over at Breaking the Spine, so head over there to join in or see what it is all about :)

The Forbidden Wish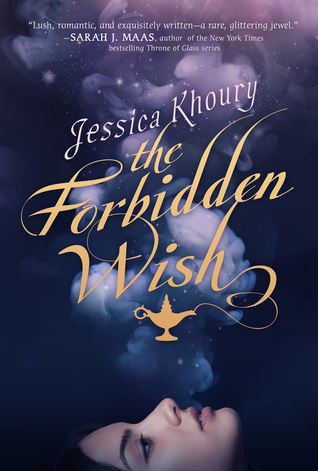 Written by
: Jessica Khoury
Publisher: Razorbill
Release Date: February 23rd, 2016

(or April 1st, depending on where you live)
Genres: Fantasy, YA, Retellings, Romance, Fairy Tale, Re-telling, Aladdin re-telling,
Pages: 352
Buy: Book Depository
Add to Goodreads
Summary:
"She is the most powerful Jinni of all. He is a boy from the streets. Their love will shake the world...

When Aladdin discovers Zahra's jinni lamp, Zahra is thrust back into a world she hasn't seen in hundreds of years - and a world where magic is forbidden and Zahra's very existence is illegal. She must disguise herself to stay alive, using ancient shape-shifting magic, until her new master has selected his three wishes. But when King of the Jinn offers Zahra a chance to be free of her lamp forever, she seizes the opportunity - only to discover she is falling in love with Aladdin. When saving herself means betraying him, Zahra must decide once and for all: is winning her freedom worth losing her heart? As time unravels and her enemies close in, Zahra finds herself suspended between danger and desire..."
Way i am waiting....
NetGalley offered a Sneak-peak Chapter sample thing and i got that and read it at the beginning of December.
And since then i am in a reading slump
because
i only want to read this story. So there is a big reason why i want to read this book.
Another?
I never read an Aladdin retelling and from what i read in this? if the author doesn't go completely overboard with the whole King of Jinn spin this book will be fantastic because the writing with those first few chapters was just that - fantastic.
And while i also did not read Aladdin retellings i also can't remember reading a great Jinn story. Another good reason to want to read this.
Did i also mention already that i started to read this and need the rest of this book to finally be able to get this book out of my head and be able to actually read in a normal way again?


Have you heard of this book? do you want to read it?

Write more later....