Waiting on Wednesday: Heartless
Waiting on Wednesday is a weekly event hosted over at Breaking the Spine, so head over there to join in or see what it is all about :)

Heartless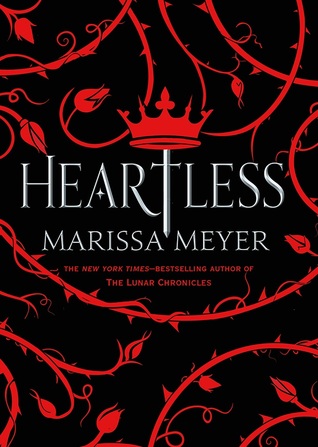 Written by
: Marissa Meyer
Publisher
: Feile and Friends
ISBN:
9781250044655
Release Date: November 8th, 2016
Genres: YA, Retellings, Fairy Tales, Fantasy, Wonderland Retelling
Pages: 416 (Hardcover)
Buy: Book Depository
Add to Goodreads
Summary:
"Long before she was the terror of Wonderland - the infamous Queen of Hearts - she was just a girl who wanted to fall in love.
Catherine may be one of the most desired girls in Wonderland, and a favorite of the yet -unmarried King of Hearts, but her interests lie elsewhere. A talented baker, all she wants is to open a shop with her best friend and supply the Kingdom of Hearts with delectable pastries and confections. But according to her mother, such a goal is unthinkable for the young woman who could be the next Queen.
At a royal ball where each is expected to receive the King's marriage proposal, she meets Jest, the handsome and mysterious court joker. For the first time, she feels the pull of true attraction. At the risk of offending the King and infuriating her parents, she and Jest enter into an

intense, secret courtship.
Cath is determined to define her own destiny and fall in love on her tears. But in a land driving with magic, madness, and masters, fate has other plans."
There are many different reasons actually.
For one while i wasn't as big of a fan as the rest of the reading world -apprently at least- i did like the Lunar CHronicals to an extend. I mean i think Meyer would have done so much more and better especially for such a long series and such amount of pages as those books had, BUT overall the idea and the writing? Pretty good and i want to see what she can do that is different.
Also i never read Alice in Wonderland. Yeah you read that right. I just... haven't. I also never watched any movie. The closest i came to Alice in Wonderland in any way or form was that i think i saw an episode in "Once upon a Time" that had the Mad Hadder in it. And i am pretty sure that he is from that? Right?
As you can see i am a well of knowledge when it comes to this story.
Anyways... back to the actual topic. This just sounds interesting. And i never found a fairytale -original or retelling- that i really loved or even enjoyed from start to finish yet. So i want to see if Meyer can do fantastically with this and woo me over to where the rest of the reading world appears to already be: firmly on the fan site of Meyer.
Also who doesn't love a great story told from the "villains" perspective? That can't just be a favorite story side of mine!
So yeah... just... this just sounds fantastic. And i love the simplicity of this cover and i can't wait to read this and see if i will love it or not


Have you heard of this book? do you want to read it?

Write more later....