Waiting on Wednesday: Ruined
Waiting on Wednesday is a weekly event hosted over at Breaking the Spine, so head over there to join in or see what it is all about :)
Ruined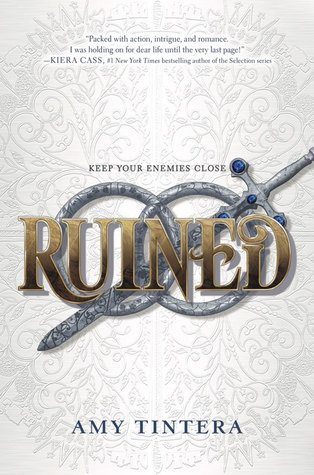 Written by
: Amy Tintera
Publisher: HarperTeen
ISBN: 0062396609
Release Date: May 3rd, 2016
Genres: YA, Fantasy, Romance, Adventure, Science Fiction
Pages: 368 (Hardcover)
Buy: Book Depository
Add to Goodreads
Summary:
"

Evelina Flores has nothing. Her home in Ruina has been ravaged by war. She lacks the powers of her fellow Ruined. Worst of all, she witnessed her parents' brutal murders and watched helplessly as her sister, Olivia, was kidnapped.
But because Em has nothing, she has nothing to lose. Driven by a blind desire for revenge, Em sets off on a dangerous journey to the enemy kingdom of Lera. Somewhere within Lera's borders, Em hopes to find Olivia. But in order to find her, Em must infiltrate the royal family.
In a brilliant, elaborate plan of deception and murder, Em marries Prince Casimir, next in line to take Lera's throne. If anyone in Lera discovers Em is not Casimir's true betrothed, Em will be executed on the spot. But it's the only way to salvage Em's kingdom and what is left of her family.
Em is determined to succeed, but the closer she gets to the prince, the more she questions her mission. Em's rage - filled heart begins to soften. But with her life - and her family- on the line, love could be Em's deadliest mistake."
"
I am always in search of a good new Fantasy. Especially if it has a great female lead since those are rather rare.
I mean there are quite a few fantasy books with female leads, but the problem is that even if they make the main girl out to be this kick ass person in summaries, most of the time when you actually read the book? the girl is not really that great or even okay. She is rather stupid or even just plain damn.
I do hope that this one is not that but an actual fantastically wonderful female lead that will do what she has to do and do it because she wants to do it and not because she is running after the guy at one point during the story.
I also kind of like that this story has sisters and that one is trying to save the other. Especially since most of the stories that have one sibling saving the other it is the brother trying to save the sister. So it would be nice to have a story where -once again- the female is the one that really does the kicking ass and saving for a chance.
Also the cover is very interesting i thing.
Different and very eye catching!
The entire book just sounds great and who doesn't love a good fantasy adventure story?
So yeah... cain't wait for this book and see if it really will be the great adventure that i hope this book will be.
What about you guys? Have you heard about this book?
Have any fantastic fantasy recommendations to share?
Let me know, lets chat :)


Write more later....