Waiting on Wednesday: Strange the Dreamer
Waiting on Wednesday is a weekly event hosted over at Breaking the Spine, so head over there to join in or see what it is all about :)
Strange the Dreamer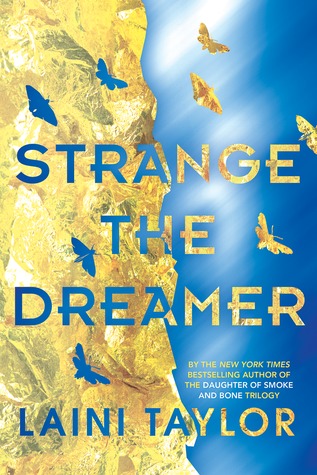 Written by
: Laini Taylor
Publisher: Little, Brown Books for Young Readers
ISBN: 0316341681
Release Date: September 27th, 2016
Genres: Fantasy, YA
Pages: 528 (Hardcover)
Buy: Book Depository
Add to Goodreads
Summary:
"Strange the Dreamer is the story of:

the aftermath of a war between gods and men.

a mysterious city stripped of its name.

a mythic hero with blood on his hands.

a young librarian with a singular dream.

a girl every bit as dangerous as she is in danger.

alchemy and blood candy, nightmares and god spawn, moths and monsters, friendship and treachery, love and carnage.

Welcome to Weep."
This
is actually of one those books that i am excited about but at the same time unsure when i will get to it because i did not love Taylor's "Daughter of Smoke and Bone" trilogy. I mean i didn't hate it but it just wasn't this BIG thing that it was for everyone else.
It was okay, and i saw a huge amount of potential for something great in those books but i thought that Taylor didn't take it there.
Because of that i want to give her another chance and see if she is able to take it where her stories could go.
Also gorgeous cover. Which didn't influence my want to read this book... AT ALL!
It just sounds interesting and different and why not? I always like if there is a different kind of hero in books and also the story has a librarian so clearly there will be book love in this book so that is always a selling point for me.
So i am excited and want to see if i will like this book when it comes out. Just not RIGHT the moment it comes out if that makes sense.
Are in love with the cover as i am?
Love Taylor and read everything she comes out with no matter what?
Are unsure about her as i am?
Never read anything by her but want to give this a try?
Let me know, lets chat :)


Write more later....