Book Review: Girl at War
I read this book earlier this year - i think April? I could look it up since i do keep a rather detailed record of what and when i read stuff but you know what? I just don't feel like it so i will not be doing that.
But i since i already done a Video review of this book i wanted to also share it on my blog finally! Because this book deserves all the love it can get!

So lets go talk into the rambly ravings about this book!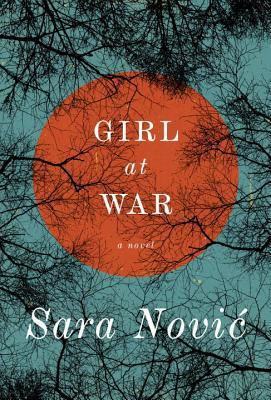 Overall rating
: 5 out of 5
Genres
: Historical Fiction, Fiction, War Story, War, Croatia, European country, Adult fiction, Adult, Young Adult, Contemporary, Family story, Survival story, coming of age story
Book received through:
Gifted to me by my mom
"Zagreb, 1991. Ana Juri
ć
is a carefree ten-year-old, living with her family in a small apartment in Croatia's capital. But that year, civil war breaks out across Yugoslavia, splintering Ana's idyllic childhood. Daily life is altered by food rations and air raid drills, and soccer matches are replaced by sniper fire. Neighbors grow suspicious of one another, and Ana's sense of safety starts to fray. When the war arrives at her doorstep, Ana must find her way in a dangerous world.New York, 2001. Ana is now a college student in Manhattan. Through she's tried to move on from her past, she can'T escape her memories of war - secrets she keeps even from those closest to her. Haunted by the events that forever changed her family, Ana returns to Croatia after a decade away, hoping to make peace with the place she once called home. As she faces her ghosts, she must come to terms with her country's difficult history and the events that interrupted her childhood years before."
Favorite thing/moment in the book:
I can't really say. Because this book has so many heartbreaking but realistic and honest moments that i appreciated for what they were -realistic view of war from a child growing up in it -during and after that war. Those were my favorite moments. Those where the moments that made this book as great as it is!

YES! You should. Even if you don't like war stories. Even if you hate Historical books. NO matter what you love or hate, read this book. It will bring you something. Even if you hate this book while reading it, it will still give you a new perspective on war, on survival on family, on love and hate and everything in between!
First thought after finishing the book: I want to hug the book. And the characters. And the writer. Because while it was not perfect, it kind of was!
I really wanted to review this book right after i read it.
But you know what? I had a hard time figuring out what to say other then "GO READ THIS RIGHT NOW! RIGHT NOW! DROP WHAT YOU ARE DOING AND READ THIS FREAKING BOOK!!"
Which is just... yeah not necessary the best review. Or a good way to list reasons for people to go and read the book.
It took me a while to figure out what i want to say and how i want to say it because that is just... its not as easy to talk about a book you really just want to rave about and push at people. Mostly because i want to spoil the whole think and talk about all those wonderful details that this book has but that would be spoiling it for anyone that wants to read it. And that is just... everyone has to read it that hasn't read it yet. So clearly i can't do that...
I am completely losing track of what i want to talk about here.
So lets focus and go back to the actual book.
As you can see from the summary this is a book about war and what it does to a person, a family, a country. And that really is basically what the book is about.
But at the same time it is so much more then a "typical" war story.
This book was just heartbreakingly beautiful.
I loved how Sara Novic managed to realistically show just how completely stupid wars really are, and that most of the time only people that really don't have anything to do or say get hurt anyways. And that it is all completely unnecessary violent and just stupid. Especially if you see it from a child's perspective that doesn't understand the political and historical stand points and just sees how people suddenly find it completely okay to kill each other off or be violent to and towards each other in any way they can image.
This book was so honest about the war horrors and what they do to people and that you can't leave horrific events like that behind you simply because you managed to escape the situation and still be alive.
Ana went through such horrific events during her time in the war, and reading a war story from the perspective of a child that survived, in an active war zone, takes the entire story up a notch. At least for me it did.
Reading how Ana watched people getting shoot and fall backwards into a mass grave, hearing the story of a child that is so traumatized that she can't even talk anymore and still has a gun shoved into her hands and being taught how to build, load and shoot that same gun to be able to save her life and that of other children if it is needed.... Its just heartbreaking!
That entire view point just drives the entire story home in a way that very few other war stores i have read have done so far.
I also can't say how much i approached that Sara Novic didn't just let Ana "heal" once Ana made it to the US and to New York. Ana still struggles in every day situation. One of the first moments in the book that take place in New York, talks about how Ana still has trouble seeing all that trash on the streets and not eating to run for cover out of fear that the trash is hiding a bomb that might kill her when she walks buy. And that is over 10 years after the left the war zone and the country the war happened in.
But exactly this moments, those simply description and small mentioned that really only take a couple of sentences, make this book so special.
Novic also doesn't try to romanticize the war. She doesn'T try to talk it pretty. She doesn't make excuses or tries to explain why the war happened or why it had to happen. Or even try to say that the war was what made Ana into the person she is in the book.
The entire book is simply one point of view during a horrible part of history that a child lived through and tried to survive. But at the same time she also doesn't make it more dramatic or brutal then real war would be.
She just manages to walk a very thin line between being very realistic and not overdoing it!
Novic really shows that people die, but also that people survive. She shows that family break apart, that friends leave. But also that they can survive and find each other again.
This book is wonderfully paced.
Beautifully written and heautnigly honest about war, about trauma and about surviving and remembering.
Its brutally realistic about live and friendship and family. And its so realistic and vivid in a way that i almost never experienced in fictional books!
You all should read this book.
Not only because this is a story that should be read, a realistic but still fictional war story that is a must read.
But also because Novic managed a literary master piece here and it deserves to be read and loved and recommended!
So really, honestly, please, pick this book up. Even if you don't normally read war stories, if you normally stay away from this type of book, if you hate the summary. I don't care. You should read this book just to see a different point of humanity and figure out which side you fit in and what you would do. And that we should all work to not have those situations come up again if there is any way -any way at all!- for us to prevent this kind of destruction and devastation of people and countries as it happens during war times.
I would love to hear if you read this book.
What you thought and if you recommend it at all.
Or if you plan to read it. Or never heard of it.