Top 10 Tuesday: Favorite Releases of 2016 - so far!
Can you guys believe it was already another new week, and already Tuesday
already?
I can't.
But lets talk about books!
This weeks topic is:
"
Top 10 Favorite 2016 Releases so far this year!"
This is a top 5 list.
Because i haven't read that many new releases of this year yet. Sadly.
And interestingly enough apparently all new releases i did read from this year where YA books? Did not see that one coming!
I do have read quite a few adult books this year, actually more then YA -whcih is why it is even more interesting to me to see that i read more new releases in YA then adult since from all the 76 books i read so far this year only about 1/3 o them is YA.
Not the topic of this post thought.
I could have shared a few more and made it a whole top 10 but then i would have had to include books that weren't my favorites or i didn't even love that much. So i won't do that. Because i don't want to do that and that is not what this post is about. So instead i am just sharing my top 5!.
Here we go:
1. A Court of Mist and Fury by Sarah J. Maas
I was so surprised on how much i enjoyed this book that it is not even funny.
I didn't love the first book. I actually did a whole review for that one so click here to go and read my whole and rambly thoughts all about A Court of Thorns and Roses if you want.
And i will be doing a whole review for ACoMaF soon as well, so look out for that if you want.
But in short? This book was just worlds better then the first one, made me fall completely and utterly in love with Rhysand and i want the next book right now.
Thats pretty short, right? Lets keep it at that for now and look out for rambly tangly talk-y review this week here!
2. The Rose & the Dagger by Renee Ahdieh
I read "The Wrath and the Dawn" and this book basically on one day. They were that good.
Which is saying something since i am normally not a huge fan of the whole "re-telling fairytales" spiel, since i just... i am not a huge fan of fairytales so why read the retellings? But first ACoMaF was world chancing and this was equally wonderful.
What i loved?
That this is a Duology that is actually finished with the second book. And that the second book is not really lacking behind the first one.
The writing was beautiful, the world was fantastic, i loved that the author kept very true to arabian culture -not that i am an expert or anything but it felt very authentic!- and she didn't americanize the entire book. Which is just... that is beautiful and kind of horrible that you have to actually say that about a book that is a retelling of 1001 arabian nights, but you know what you kind of have to mention it because soooooo many books do americanize the entire thing.
This one doesn't.
And the writing was beautiful. Which i already said but it was beautiful enough to warren a two time mention. So there.
If you haven'T read this duology yet? Go do that. Right now would be best.
3. The Unexpected Everything by Morgan Matson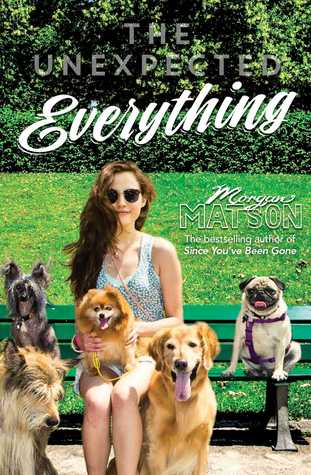 I will be writing a raving review about "Amy and Roger's epic detour" very, very soon -i am lacking horrible behind on any and all reviews!- but sadly his book wasn't as fantastic as that.
It still was good.
It has Matson's wonderful writing, but it was a bit overly long, since it started to get boring a few times.
But overall it was good.
There was lots of fantastically wonderful friendship moments. I loved that this book was more or less all about repairing the relationship between a daughter and a father. And there were LOTS of dogs.
Sadly there was also a slightly boring main girl and an even more boring love interest.
All in all this book was good -should i say this a few more times?- but not overwhelmingly wonderful as Amy and Rogers was for me.
This all sounds like i didn't enjoy this book. i did.
I just think that Matson did a better job with Amy and Roger's and could have done better with this. That doesn't mean that this wasn't good or that you should read this. Just be prepared that there are some boring moments and some moments that you might love that much. But its still a good book and if you love Matson you should
definitely
read this!
4. These Vicious Masks by Tarun Shanker and Kelly Zekas
I did a review for this one. Be proud of me please. Because it is basically the first review i did this year. Or something.
Anyways... here is a link to my review or you just scroll down three posts and find it. Because i am a blogging master this year and if i even manage to put up two posts a week that is almost a miracle.
Lets just talk about his book instead of rambling about my incompetence.
This book is a mixture of paranormal and Victorian England. It is written in a very "Jane Austen" feel but so much better, in a way. The main girl is sass personified, the action is nicely done, the writing magnificent. And i can't wait for the second book because this one was just... it was wonderful! And you should all pick it up and read it!
5. When we Collided by Emery Lord
This is my first Emery Lord book and i loved it.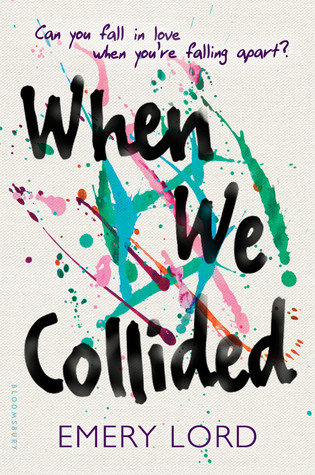 It was beautifully writing -see a theme in my loved books yet?- and the main characters were wonderful. Both had something hard to work through and while the love-relationship did feel a bit insta-lovey, overall this was just beautiful because even though they basically introduce each other and then instantly start going out, their problems don't go away because of that.
The main boy still has to deal with the loss of a parent and having to mostly take respsonibslity for his little siblings because his remaining parent can't seem to be able to go on without his/her partner.
And the main girl suffers through treated mental problems and has a mother that constantly asks about that and how she is doing with that.
So there is a heavy overtone to this book, which is i think one of the things people don't love about this book. But i really appreciated it and how Lord handled it. Because she didn't make the problems go away. She let the characters deal with it, but even while doing so they didn't disappear, they were there and coming and going in a wave like motion.
I also loved how the book ended, and i am pretty sure that most people did not love that. But i appreciated that the author made an actual ending to a summer story that made sense.
There is also lots of wonderful family moments, great little siblings, artsy moments and just overall wonderful characters and story telling in this book.
I loved how different it was, how realistic and honest and just real. And you guys should read it!
Have you guys read any of those books?
Did you love it? hate them?
Plan to read them?
Did you do this and shared your favorites of this year so far?
Please feel free to link your post so that i can check it out!
Let me know, lets chat :)
Write more later....