Waiting on Wednesday: Dead Girls Society
Waiting on Wednesday is a weekly event hosted over at Breaking the Spine, so head over there to join in or see what it is all about :)
Dead Girls Society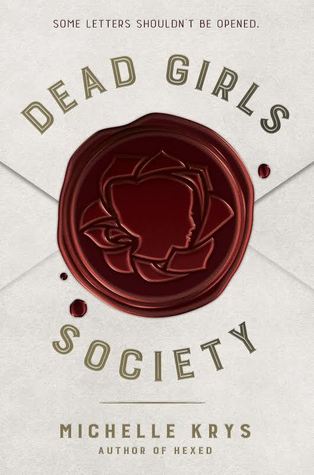 Written by
: Michelle Krys
Publisher: Delacorte Press
ISBN:
0553508024
Release Date:November 8th, 2016
Genres: YA, Contemporary, Thriller, Mystery, Ilness
Pages: 304 (Hardcover)
Buy: Book Depository
Add to Goodreads
Summary:
"You are cordially invited to participate in a game of thrills and dares. Tell no one, come alone. If you dare.

Hope is sick of everyone treating her like she's breakable. Sure, she has cystic fibrosis (basically really bad lungs), but she's tired of being babied by her mom and her overprotective best friend, Ethan, not to mention worrying about paying for her expensive medication and how she's going to afford college. And she's bored with life in her run-down New Orleans suburb.

When an invitation arrives from a mysterious group that calls itself the society, Hope jumps at the chance for some excitement. This could be her ticket out. All she has to do is complete a few dares and she just might win some real money. But the Society isn't all that it seems... and soon Hope finds that playing the game isn't a choice - it's a requirement."
This just looks very interesting i think.
I first saw the cover and the title and i just... i wanted to have that book based on that alone.
And then i read what i twas about and i was even more interested.
I think it is wonderful that the book has a "sick" main girl that more or less doesn't want to be sick anymore. I can relate to that in the biggest way!
I also really interested to see how the author manages to combine the dares with the illness and how Hope overall manages to keep up with the healthy participates.
And what kind of dares there are overall and just... give me the book, please? Thank you. Because i just want to read it and see what it is all about!
I also kind of love that the book is based around getting a letter. Because who gets letters now a days? (sadly i would love to get some letters!)
Are in love with the cover as i am? Think it sounds interesting as well?
Did your own WOW post this week?
Let me know in the comments, lets chat :)


Write more later....