Waiting on Wednesday: A World Without you
Waiting on Wednesday is a weekly event hosted over at
Breaking the Spine
, so head over there to join in or see what it is all about :)
A World without you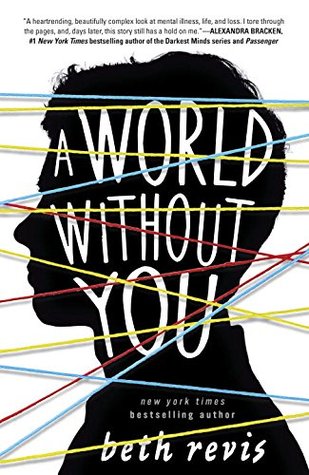 Written by

: Beth Revis


Publisher: Razorbill
ISBN: 1595147152
Release Date: July 19th, 2016
Genres: YA, Contemporary, Mental Health, Fiction, Science Fiction, Romance, Time Travel
Pages: 384 (Hardcover)
Buy: Book Depository
Add to Goodreads
Summary:
"Seventeen-year-old Bo has always had delusions that he can travel through time. When he was ten, Bo claimed to have witness the Titanic hit an iceberg, and at fifteen, he found himself on a Civil War battlefield, horrified by the bodies surrounding him. So when he concerned parents send him to a school for troubled youth, Bo assumes he knows the truth: that he's actually attending Berkshire Academy, a school for kids who, like Bo, have "superpowers".
At Berkshire, Bo falls in love with Sofia, a quiet girl with a tragic past and superpower of invisibility. Sofia helps Bo open up in a way he never has before. In turn, Bo proves comfort to Sofia, who lost he mother and two sisters at a very young age.




But even the strength of their love isn't enough to help Sofia escape her deep depression. After she commits suicide, Bo is convince that she's not actually dead. He believes that she's stuck somewhere in time - that he can somehow left her in the past, and now it's his job to save her. "

This book could go both ways.
I could be completely fantastic, interesting and different, with actual science fiction moments and great characters.
Or it could be completely horrible and completely make me hate all mental health books -which happened before because the author basically said that everything that has to do with mental illness is just faking it! (not this author, another author! i never read anything by Beth Revis before!)
But i am just intrigued how Revis will manage to combine health problems with time travel, if so goes all the way or not.
And this book is also kind of one of those, why not books?
Because i am pretty sure that this will not became one of those most popular books of the years and i mostly really love those kinds of books.
And it is different. And i always on the look out for different books.
I could go on and list different reasons why i am waiting, but lets just say that i am curious to see how this book is and what it is all about and so i am waiting.
What about you guys?
What is your week's pick? Share in the comments, please :)
Have you hear of this book? Want to read it?
Find the entire idea stupid and have no desire to read anything like that -ever?
Let me know, lets chat :)
Write more later....