Waiting on Wednesday: Been Here all along
Waiting on Wednesday is a weekly event hosted over at
Breaking the Spine
, so head over there to join in or see what it is all about :)
Been Here All along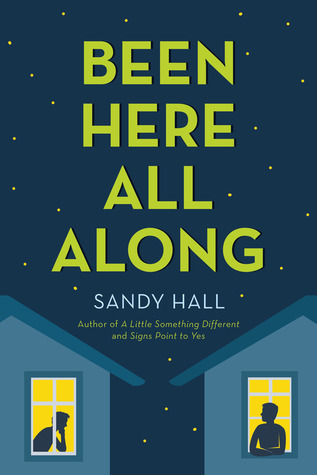 Written by
: Sandy Hall
Publisher: Swoon Reads
ISBN:
1250100658
Release Date: August 30th, 2016
Genres: YA, romance, same sex relationship, Contemporary, realistic fiction, fiction
Pages: 240 (Hardcover)
Buy: Book Depository
Add to Goodreads
Summary:
"Gideon always has a plan. His plans include running for class president, becoming head of the yearbook committee, and having his choice of colleges. They do NOT include falling head over heels for his best friend and next door neighbor, Kyle. it's a distraction. It's pointless, as Kyle is already dating the gorgeous and popular head cheerleader, Ruby. And Gideon doesn't know what to do.

Kyle finally feels like has a handle on life. He has a wonderful girlfriend, a best friend willing to debate the finer points of Lord of the Rings, and social acceptance as captain of the basketball team. Then, both Ruby and Gideon start acting really weird, just as his spot on the team is threatened, and Kyle can't quite figure out what he did wrong..."
I have a weakness for same-sex relationship books. And i love that there are finally coming out with a good amount of those for young adult readers because its important to show young people -or anyone really- that everyone is "normal" no matter what feelings they are having -as long as those feelings are not... you know murdering everyone or anything else that is illegal or hurting others! You know what i mean!
I also love books that have a perfectionist in them and this sounds like this one has one with Gideon, since i have a very similar problem. So always great to find a character i can relate to.
I like the cover as well.
What are you guys waiting on this fine Wednesday?
Have you read any great same sex relationship books recently?
Let me know in the comments, lets chat!