Waiting on Wednesday: As I Descended
Waiting on Wednesday is a weekly event hosted over at
Breaking the Spine
, so head over there to join in or see what it is all about :)
As I Descended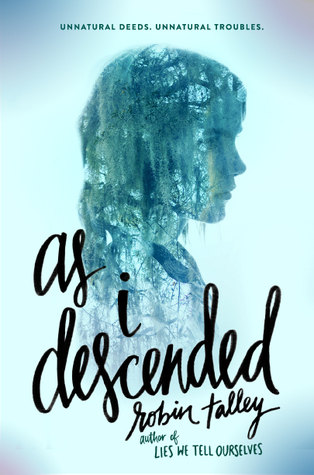 Written by
: Robin Talley
Publisher: HarperTeen
ISBN: 0062409239
Release Date: September 6th, 2016
Genres: YA, GIbt, Retellings, Shakespearean Retelling, Same sex romance, romance, fantasy, magic, magical realism,
Pages: 384 (Hardcover)
Buy: Book Depository
Add to Goodreads
Summary:
"Maria Lyon and Lily Briten are their school's ultimate power couple - even if no one knows it but them.
Only one thing stands between them and their perfect future: campus superstar Delilah Dufrey.
Golden child Delilah is a legend at the exclusive Acheron Academy, and the presumptive winner of the distinguished Cawdor Kingsely Prize. She runs the school, and if she chose, she could blow up Maria and Lily's whole world with a pointed look, or a carefully placed word.
But what Delilah doesn't know is that is that Lily and Maria are willing to do anything - absolutely anything- to make their reams come true. And the first step is unseating Delilah for the Kingsely Prize. The full scholarship, award to maria, will lock in her attendance at Stanford - and four more years in a shared dorm room with Lily.
Maria and Lily will stop at nothing to ensure their victory - including harnessing the dark power long rumored to be present on the former plantation that houses their school.
But when feuds turn to fatalities, and madness begins to blur the distinction between what's real and what is imagined, the girls must decide where they draw the line."
Two things that basically should tell you everything that i love already about this book and why i want to read it:
Stanford and Shakespearean retelling.
If you are new to my blog, welcome, i always dreamed of studying at Stanford but because i am international student that is non-traditional that will never happen, doesn't mean i can't read anything i can get my hands on with people having a similar dream then me.
Also Shakespearean retelling.
I love a fantastically done retelling.
Especially if it really takes a different spin to the story.
Which this sounds like it does.
Mostly because i think it is "just" inspired by Shakespeares story which is fine. I love the inspired stuff more because the authors that do it can take a bit more freedom in how they shape their stories.
I also love it that more and more authors finally talk about same sex romances in a "thats normal and typical and why should we make it a hush-hush topic" because that is just the world. And while i am personal not interested in a same sex relationship/romance, i also don't care and at the same time support what every others do in that regard. Because that is their thing and its great if that is what they want. More power to them and those authors that make it a topic of their books but not the main and overly dramatized topic.
I am just really exited and hope i can buy it as soon at it comes out and swallow it whole on the day i get it.
What are you guys waiting on this fine Wednesday?
Have you read anything by this author? Loved her, didn't like her? Never heard of her?
I haven'T read ynthing by Talley, but if i love this book i defiantly will be picking up her other stuff.
Any good recommendations this week?
Any wonderful books read that have to do with Stanford University?
Let me know in the comments, lets chat!
Write more later....