Waiting on Wednesday: A Study in Scarlet Women
Waiting on Wednesday is a weekly event hosted over at Breaking the Spine, so head over there to join in or see what it is all about :)
A Study in Scarlet Women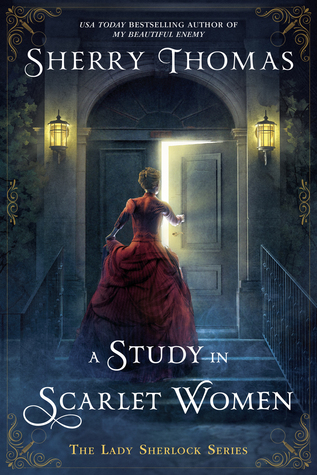 Written by
: Sherry Thomas
Publisher: Berkley
ISBN: 042528140
Release Date: October 18th, 2016

(Or maybe its already out? Because i saw that some people are already reading it? But i looked it up where i live and there the release date above)
Genres: Adult, Fiction, Historical Fiction, Retelling, Sherlock Holmes Retelling, Historical, Mystery, Historical Mystery, thriller, crime
Pages: 336 (Paperback)
Buy: Book Depository
Add to Goodreads
Summary:
"With her inquisitive mind, Charlotte Holmes has never felt comfortable with the demureness expected of their fairer sex in upper class society. But even she never thought that she would become a social pariah, an outcast fending for herself on the mean streets of London.

When the city is struck by a trio of unexpected deaths and suspicion falls on her sister and father, Charlotte is desperate to find the true culprits and clear the family name. She'll have help from friends new and old - a kind-hearted widow, a police inspector and a man who has long loved her.




But in the end, it will be up to Charlotte, under the assumed name Sherlock Homes, to challenge society's expectations and match wits against an unseen mastermind."
I LOVE Sherlock Holmes retellings, no matter which form they come in -movies, TV shows books? I don't care! I will read/watch that and have a great time -at least most of the time!
I love seeing if they keep very similar to the original, or if they make it a modern retelling, make it older, newer, include the actual sherlock or not... i just love those kinds of crime stories and can't wait to read another!
But can i just say that i do not understand why so many female Sherlocks are named Charlotte? Is there something i missed?
Is Charlotte the female from of Sherlock? Because i don't see it?
Doesn't really matter....
But you know just something i noticed....
I also don't have any more reasons for why i am waiting!
What are you guys waiting on this Wednesday?
Have you heard about this book?
Any of you have any good re-tellings of the Holmes stories to recommend?
Let me know in the comments, lets chat!