Books by or about inspiriting Real Women
Today is International Women's Day.
And i thought why not share a few women that i read books by or about that i found really inspiring.
Either because they wrote fantastic Self-help kind of books or just because those women are badass! And they really show us all that no matter what we might thing or what we might hear?
We are a strong gender, and a powerful gender and we can do what ever the heck we want to as long as we work for it.
And to with that in mind, lets now go through the list of very inspiring and powerful women that -if you haven't yet- should read books from or about as soon as possible because they are AWESOME!
This list is in no particular order AT ALL!
I could have gone over it again and put it in a specific order but honestly? Why? All those women are BRILLIANT and don't need a specific order!
If you have any specific Inspirational Women i would LOVE to hear about them in the comments! :)
1. Ellen DeGeneres
That woman is unstoppable!
And brilliant!
And i think if we would ever meet? We could get along very well (just sayin'!)
She is unashamedly herself, she stands up for what she believes in and she never ever is mean with her jokes or hateful towards anyone.
She can make fun of herself and has one of the best laughs when she really actually laughs that i ever seen!
I mean i see her laugh and HAVE to grin. No matter how much i don't want to.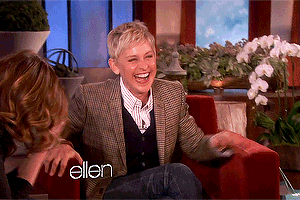 So clearly that woman is a necessity in everybody's life!
I just love what she does and how she does it and i love that she writes books as well. She shares so much of her time and life and options already on her show but she still shares so much more in her books.
Now her books might not be literary marvels, or something you always remember or cherished (i mean they can be! I am not saying they don't have the potential to be that for you, but for me they weren't!) but they are fun and easy reads and you clearly hear her voice in them.
I also love how humble and down to earth she seems even though she literary meet EVERYONE that has any kind of influence or power or a voice that is heard. But she still does her own thing, she laughs, she dances, she makes fun and has fun and its wonderful and i love that through her YouTube channel as well as other online versions allow international viewers to see her as well now.
2. Angelina Jolie
I grew up on her movies.
I loved most of them.
I loved that she most of the time played this very strong and independent woman.
And clearly she is stunningly beautiful, so seeing her having those strong roles instead of the pretty little wife or mother (not that there is anything wrong with that if that is what you want to do and be!) was wonderful to see!
But actually i really found her inspiring because of what she is doing outside of her movies.
How she works for rights of people around the world, shares suffering, uses her fame to show what you can do.
And i loved that she adopted a child on her own.
Because honestly that was an inspiration for me from the age of 10 where i KNEW i wanted children, but not sure if i wanted a life partner, so seeing this strong, independent woman be so unbelievably happy and single and having a child?
That was something to me.
It is sadly still impossible for me to adopt a child in my country as long as i am not married (yes you read that right!) i still think it is wonderful that she was so open and honest about her adoptions and shared that part of her life and her children's lives, because i am sure i was/am not the only girl that saw her with this cute little boy in her arms (or any of her other children be it her biological or adopted ones) and be inspired by her.
Now having raved enough about her and her children.... lets talk about her book.
Because she has one, even if i never heard anyone talk about it before.
And it has been YEARS since i read it, so please remember that.
But i remember really liking her writing, and her option and how she talks about her travels and people and general anything she experience while traveling with the UNHCR as the Ambassador she is. She shares how she lived and worked the people living in different parts of the world and did it so honestly and encouraging and in a way that made me feel like i could actually help change the world and make it a better place for others.
3. Hilary Clinton
She needs no introduction, no matter from which part of the world you are.
I might be still a bit in shock (as i know a lot of people are!) that she actually lost.
But even thought she lost the presidency, she is still a HUGE inspiration to any girl/woman in the world.
She fought through so much, she took setbacks, she fought through people trying to stop her and she just kept on going.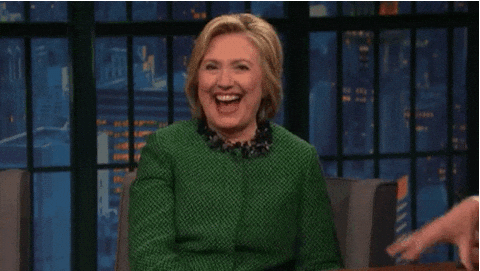 And on top of that she also writes very interesting books!
If you haven't read anything by her, you guys should!
It is mostly political but not in a way that makes you want to throw it across the room if you are not a political buff or really want to read about politics.
Which i understand! I am not huge on politics myself in a way that i want to read all kinds of memoirs or non-fiction books about politics.
But i actually really enjoyed the book i read by her and want to read more from her.
She manages to make the topic reliable, understandable and does it without making it sound as if she is self absorbed!
So go check out her books!
4. Michelle Obama
Since we are already talking about female US Politicians, lets just keep going!
She was one of the best first ladies i think.
She had her own voice, but she was supportive.
She was stylish, she is strong and smart and powerful and how can you not like her? I mean really?
I haven't read a book written by her, i plan to, but i haven't yet!
I have read a collection of short stories where other people talk about how they were inspired by her while she was the first lady.
I can't wait to see what she is going to do in the future and i hope we will hear and see a LOT more from her in the future!
5. Alice Roberts

Lets switch from the politicians to another TV personality -or at least that is how i learned about her.
She is a Physical anthropologist, a broadcaster, an author and a professor of Public Engagement in Science at the University of Birmingham.
I really enjoy her programs, especially "The Incredible Human Journey" but she did so many different programs, "Extreme Archaeology", "Don't Die Young" and "origins of us" are all fantastic and interesting programs to watch if you are interesting in learning more about the human species.
And if you are not into watching the programs? Read her books about them because they are all equally fantastic!
Honestly i love her because i would love to work as a physical anthropologist (or an author) and she makes it look so fun and exciting!
If you never heard about her before, please check out her stuff and than come back and thank me for introducing you to her. And if you know her already, lets talk about how fantastic she is in the comments, alright?
6. Yeonmi Park

(or Park Yeonmi as it should be writing as a Korean name)

She clearly is "Just" one voice of unbelievably many people that had to survive through a very similar story. But she told her story and experience with North Korea in a so unbelievably honest and real way that it was just very eye opening.
She is younger than i am, survived so much more, and is so positive and just wants to make the world a better place so that others don't have to survive what she had to made it through.
She is an advocate for victims of trafficking and promoting human rights in North Korea around the world and i think she is a huge inspiration.
If you haven't seen her speech about her escape from North Korea, please search it on YouTube and read her book.
You guys should really all read her book because everyone should read it, not only because it is a heartbreaking story, but also because it shows a side of North Korea we normally don't get to see.
7. Shonda Rhimes

I just read her book "year of yes" and while it wasn't the best read or most inspirational book (or even as inspirational as i wanted it to be) She is a HUGE inspiration.
She literary took over an entire day of television in USA, lets just think about that for a second.
The country that basically produces 80% of TV shown around the world, even if you don't like any of her shows, lets just face it and say that that woman is something very special!
She finally brought back a black lead female main TV character in a great show, she managed to keep a show up and running for over 12 years!
I don't care if you love her, if you love her shows or if you hate her overdramatic series... you have to at least accept that this woman is a huge inspiration for working for it, for not giving up, for keep moving forwards and believing in yourself and what you create!
8. J. K. Rowling
How can i make a list of inspirational real women and not include this brilliant person?
She gave us all this entire huge magical world in books and movies, and now she creates a different series that already has a huge following with "Fantastic Beasts and where to find them"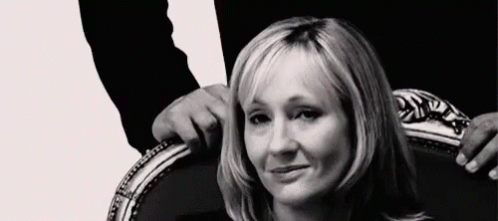 She also shown that even though she clearly achieved the high point of highest points with Harry Potter, she didn't let it stop her and wrote something completely different and did it very well as well and proved everyone wrong that was sure she would not be able to write anything but magical fantasy!
She didn't stop when publishers turned her down when she wrote the first Harry Potter, because she somehow was sure that what she wrote will be loved. And clearly she was right.
If anyone gives you the inspiration to not give up no matter how many "no"'s you get, its this woman! because how can you not look at her success and be inspired?
Not even to achieve the same heights (lets face it that is not possible!) but just to see her as someone that managed to overcome huge obstacles, and clearly making it!
And there is no need to say more about this woman!!
Of course this is not a complete list.
I could most likely do a separate list for TV personalities and authors alone that is double what i just shared. But i didn't want to go overboard.
I would LOVE to hear what you guys think of this list.
What woman is your huge inspiration!
If we share a few wonderful women we find inspirational or not, let me know!
Lets chat!
And celebrate the day!