Top 10 Tuesday: Books i HAVE to read in Spring
I can NOT be the only one that is completely floored by the fact that it is already SPRING 2017!
wasn't is just Spring 2016 last week?
Which is not the topic of this post at all, so lets not talk about that and get talking about books instead!
I have -as always- way, way, way more books on my Spring TBR than 10 books.
So i have decided i will share two top 10's with you guys today.
The first one is my Top 10 of books i already own for a while, i have no reason not to read them because they are there, available, waiting and have been for at least a couple of weeks.
And i should read them because of the just listed reasons.
And the second Top 10 is new releases i am really exited about, i can't wait to read those, and i hope to read them very, very soon after they are released. But i am not sure if i can/want to buy them right away. So that list is a bit of a tentative thing.
If i can get my hands on them? I will read them during the Spring time.
If not? i hopefully still read them someday, just not right now.
Lets now move on to the actual books..

Top 10 "read them already!":
1. The Night Circus by Erin Morgenstern
I read this book shortly after it came out, but that was before i had any kind of social media outlet in sharing my thoughts.
And while i remember quite a bit i wanted to re-read this for a good amount of years anyways so why not try squeezing it in now?
2. The Goldfinch by Donna Tartt
This book has been on so many monthly TBRs -shared and not shared ones- that it is an embarrassment that i still haven't read this book yet!
I am even pretty sure i will enjoy it based on what this book is said to be about.
I haven't read anything by this author yet, but i was told that this book is one of her best and should be read.
So why haven't i read it yet?
No idea. But it is going to happen this season!
And if not please feel free to kick my butt!
Thanks!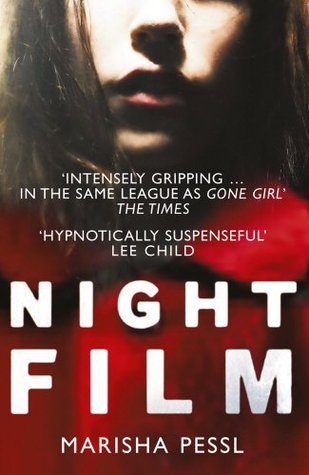 3. Night Film by Marisha Pessl
Another book that has been on my shelves for way, way, way too long!
Especially since i am really excited about this one as well.
I mean this is a mystery thriller noir book! What better kind of book is there?
And yes i know technically it is a Fall read. But i keep pushing this book back because i always thought i should read it in Fall. But then Fall comes around and other stuff keeps catching my eyes and interested and i keep forgetting about this one.
So instead of doing what i have been doing for way to long now, i am going to read this book now! Because i want to! Seasonal fitting be damned!
4. Behind the Scenes at the Museum by Kate Atkinson
Want to know what theme this list has?
The books that have been on my shelves for years and are still sitting there unread and i should finally read them!
That is the theme!
And guess what?
this one fits into that perfectly!
I bought this book when i was in London for a visit in 2012!
And i started reading it on the flight back and actually really enjoyed the historical fiction, but then i got home and put it aside because i cleaned up what i had with me and this book got put on the shelves back then and has been sitting there unread since.
5. In the Light of what we know by Zia Haider Rahman
Another Historical Fiction that has been on my TBR for too long! Theme! There you go! I did not make it up!
This is a book set during the war and financial crisis, all about friendships of two men and a journey taking this book all over the world, so basically? everything i love in a book and want to read.
So i should do that!
Spring is the time! I hope.
Moving on to YA reads

(aka. faster and easier to read books -at least to me they are)

:
6. The Conspiracy of Us by Maggie Hall
This is the first book of a YA series that is supposed to be a fast-paced international escape, high in adrenaline, glamour and romance and i heard it extremely often compared to Dan Browns books but for YA audience.
And what of that description does not just sound like something you should read?
To me it sounds so fantastic that i am sitting here writing this, not at all understanding why the heck i haven't read this yet!
But the third and i think last one of this series is coming out in either June or July (i could have looked that up but i didn't so... oh well!) and i now have access to the second one via OverDrive which a library in my area finally got! So clearly the perfect time to read this book!
7. Red Queen by Victoria Aveyard
Another first book in a YA series, this is Fantasy book where there is something about were people that have red blood are commoners and people with silver or gold blood are superpowered people? I think?
Can you tell it has been a while since i bought this book?
I know it is one of those series that people either love or hate and most of the time that is a series i at least have a great time reading, which is enough motivation for me to finally want to pick this up!
And the third instalment in this series came out in February and i have access to that, as well as the second one -once again OverDrive i am already in love with it!- so i am going to read this!
8. Pointe by Brandy Colbert
Yet another book i have had on my shelves for at least two years -i actually want to say three?- and i really want to read this book since i got it but it always lands on the bottom of my pile because i have other books that somehow get priorities over this, which is stupid!
I love the topic of this book, with it being all about Ballet, eating disorders, and apparently a kidnapping?
But just reading a book about a disease that many people hush up (like eating disorder!) and dancing especially professional ballet dancers? that sounds right up my ally and i have no idea why i haven't read this book already! So i am going to now! I am prioritising this!
9. Conspiracy of Blood and Smoke by Anne Blankman
This is the second book in a World War 2 duology.
I mostly loved the first book and actually wanted to read this second book right after finishing the first one.
But guess what?
Thats right!
I got distracted by other books!
And it is time! I want to know how this ends and what happens and if this second book is as good or maybe even better then the first one. So this is going to happen. It is! I hope.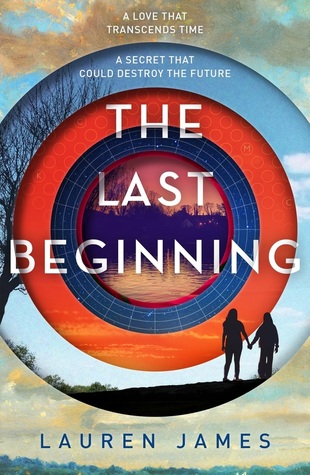 10. The Last Beginning by Lauren James
And lastly another second and last book in a duology that i have yet to read even thought i really enjoyed the first book!
I have no idea what is wrong with me to keep pushing those second books always back instead of just reading them and learning how the book series end!
I have a problem!
But i got this book as a pre-order in October. It has been sitting there looking nice and pretty next to the first book on my shelves and i am going to read this because i have it. And i want to know what is going to happen sixteen years after the first book! This is going to happen! Soon!
Top 10 "New Goodies!":
Lets start with the Sequels because we all know that those are the most exciting!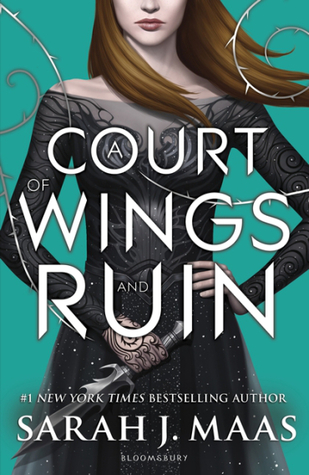 1. A Court of Wings and Ruin by Sarah J. Maas
This is on a lot of new releases lists! I know! But i am so excited for this and at the same time i am a blabbering mess (even more so than normally i mean!) about this book because Maas is one of those authors that i believe can make her stories go in all directions and make it fantastic or heartbreaking! And whit this book i really have no idea where this might be going but the "ruin" in the title makes me really, really nervous! Especially for my lovely Rhysand!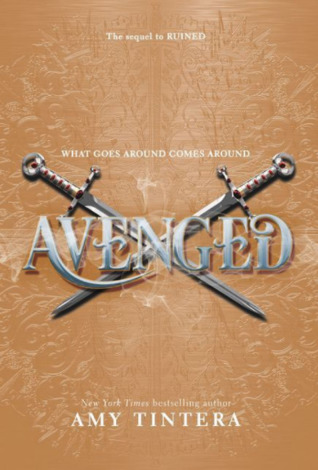 2. Avenged by Amy Tintera
i LOVED Ruined. Honestly this and A Court of Mist and Fury were my two favourite YA books of last year. It was fantastic! And i can not wait to see what this author will do in this book. And i love the simplicity of the covers of this series/duology/trilogy (?) and can not wait to see where this author will take this story and the characters and just overall where is this book i need to read it????
3. The Song Rising by Samantha Shannon
This is the third book in the Bone Season series -which i think is said to be 9 books? is that right?- and it is already out, came out this month(?) but i haven't gotten my copy yet and i have to re-read the first two books and actually review them, because when i read them before i didn't even review them on Goodreads! I apparently never got around to this series so i will re-read the books and then read this one. And with one point on this list i just added three books. Isn't that something?
4. Legion by Julie Kagawa
I really enjoy this series. I mean the last book wasn't as fantastic, but it was still worth a read.
And while i hope- hope, hope!- that Kagawa will pick up her peace and action and adventure in this fourth book in the series again, i really am very excited to get to this book as soon as i possible can!
5. Waking Gods by Sylvain Neuvel
This is the second book in the Themis Files and i actually did a review of the first one, which you can find here if you want, but basically i loved it!
It was a great book and i while i am excited i am also really nervous about this one because the first one was so fantastic to me, that i am going into this book with a huge amount of expectations. And we all know how that can work out, don't we?
If not, you are very lucky and hopefully extremely sheltered in your reading life and hope you will never ever experience the terror i am feeling towards this book!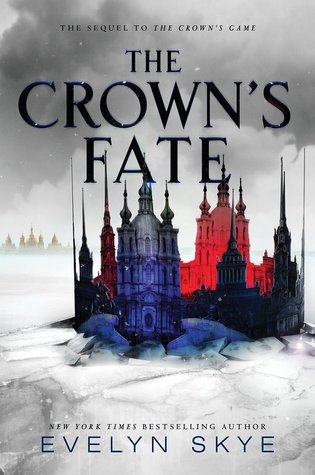 6. The Crown's Fate by Evelyn Skye
Another second book in a series i really enjoyed the first one off.
But i am not overly fussy with this one. I liked the first one enough to want to read this as soon as possible, but at the same time? I have no expectations at all for this book.
I liked the setting and writing and plot of the first one so i hope this second one will be similar, but other then that i just want a nicely written book and if the author didn't do something horrible (which sadly happens a lot more then it should!) this book should be enjoyable. We'll see.






Moving on the 3 standalone books!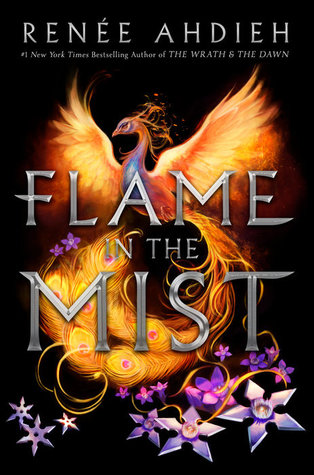 7. Flame in the Mist by Reneé Ahdieh
I literally know nothing about this book! At all, and don't you dare spoil me!!!!
I do love the cover, i really enjoy her writing from her Duology which i really loved last year. so i am excited. And can't wait.
And mostly likely will not get to this book this spring because right now that thing is EXPENSIVE! So if anyone has an extra copy? Send it my way please! Thanks :D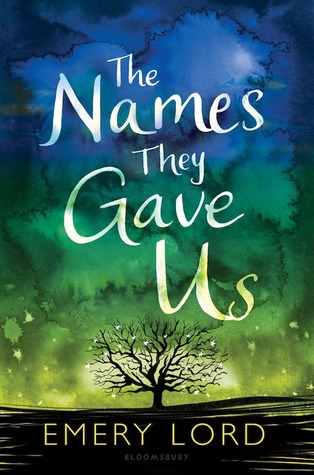 8. The Names they gave us by Emery Lord
Guess what? I have no idea what this book about!
No clue at all!
But that is fine. it is YA, its a contemporary.
Its written by Emery Lord! I am in! I want to read it!
And the cover is beautiful so just give it to me and i am sure i will at least enjoy the read if not love the story!
No need to know what it is about, right?
9. Borne by Jeff VanderMeer
I really enjoyed his "Area X" trilogy.
It was so different and very unique in my option, and i really liked his writing and plot ideas.
And this cover is just as interesting as the covers of his trilogy.
And who doesn't love a book where the summary starts with "Am I person?"
I am hooked.
I want to read it.
Give it too me!!
10. Unfiltered: No Shame, No regrets, Just me by Lily Collins
I have no idea what it is about this book that intrigues me.
I loved Phil Collins music growing up. He is one of my parents favourite musicians and i just grew up with his powerful drum beats in the house and really loved it!
I did see Lily Collins in "Blindsided" the movie with Sandra Bullock if you have been living under a rock. And i thought she did a wonderful job in that movie but i don't know anything more about her.
But i did hear some great things about this book already, and seeing that it just came out a couple of days ago that is saying something!
It is a book of essays apparently all about things that women struggle with like body image, self-confidence, dating and other such things.
And why not give this a try? I enjoy this types of books and reading a book of a person i really don't know anything about other then that i love her fathers music is different for me, and why not try that? Right? Right!

If you read any of the books on this list? Let me know what you thought!
If you plan to read any of them? let me know!
If you made a list? Let me know so that i can check it out! ;)
Lets chat in the comments!